Founder & CEO of Shake to Win invited to discuss innovation ecosystem at AmCham Brazil's special China panel
On June 11th, Shake to Win founder and CEO, Emily Cheung was invited to speak at the American Chamber of Commerce for Brazil at the webinar, "Innovation Road International Mission – China panel". Moderated by cross-border innovation & investments expert at Kaxtec, Rui Cavendish, the event invites CEO & founder of Nihub Innovation Center, Lucas Rondez, and founding partner of Phoenix Venture, Winnie Jiang, alongside Emily to discuss the innovation ecosystem both in and outside of China. In doing so, both foreigners and Chinese can build a perspective on how to tap into the innovations in a more approachable way.
Founded in 1919, São Paulo, the American Chamber of Commerce for Brasil is a privately funded, independent, non-profit association. AmCham's mission is to serve its more than 5,000 member companies by constructively influencing Brazilian and U.S. public policy and promoting trade, investment, and corporate citizenship. Today, Amcham São Paulo serves its members through a network of seven branches located in Brazil's major business centers, including Brasília, Campinas, Curitiba, Recife, Goiania, Belo Horizonte, and Porto Alegre.
A major idea explored throughout the panel was the idea of how governments are shifting their perspectives on innovation. All three panelists agreed that there is a systematic need for the nurturing and growth from larger public and private organizations in young talent, as well as the current and future innovators. Being in the field of travel and digital innovation of cultural businesses, our very own Emily Cheung highlighted the impact that COVID-19 has brought to the tourism industry. This has been a major spark for many related business owners as most of the tourism industry has been lagging behind in terms of technological innovation. While the shift is welcome and helps to extend a business beyond borders, there are still areas of improvement specifically for small to medium-sized enterprises as they lack resources and support for protecting years of heritage, environment, and historical sites. This is what Shake to Win has been developing since before the pandemic began.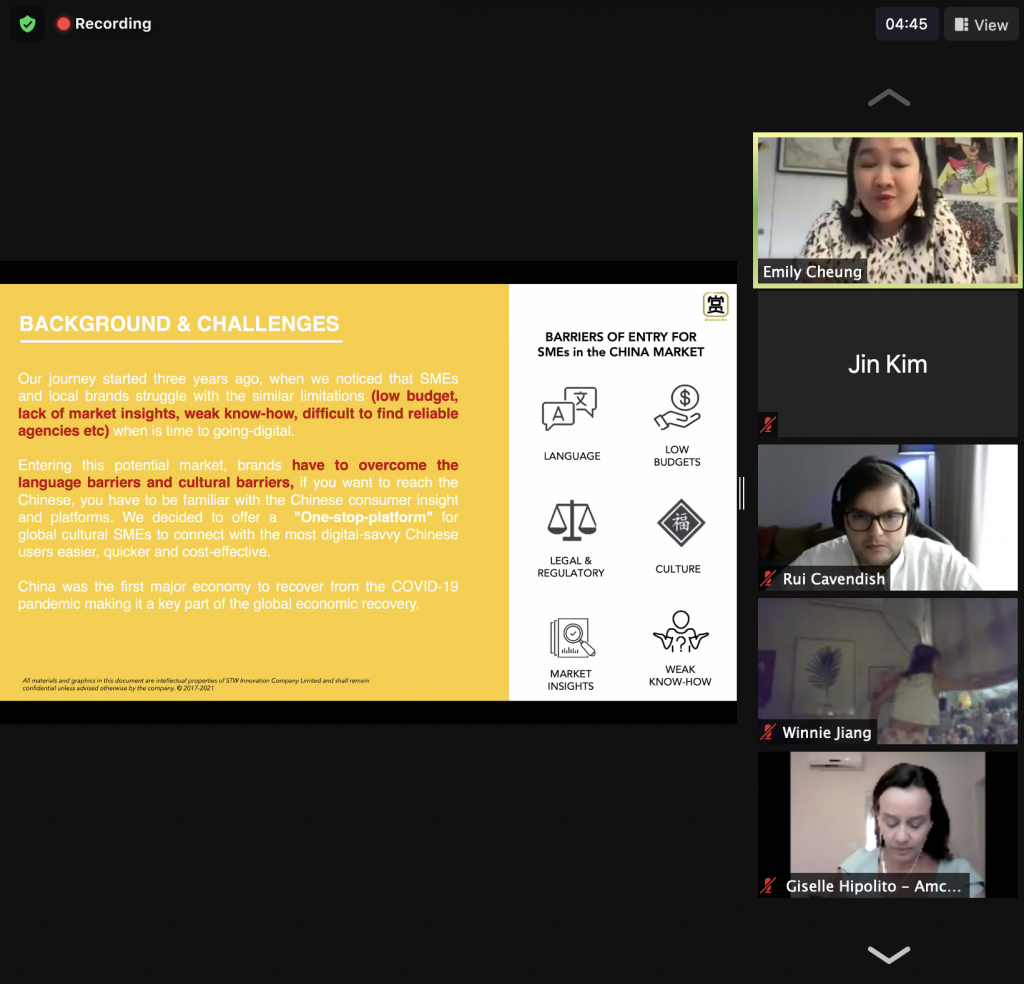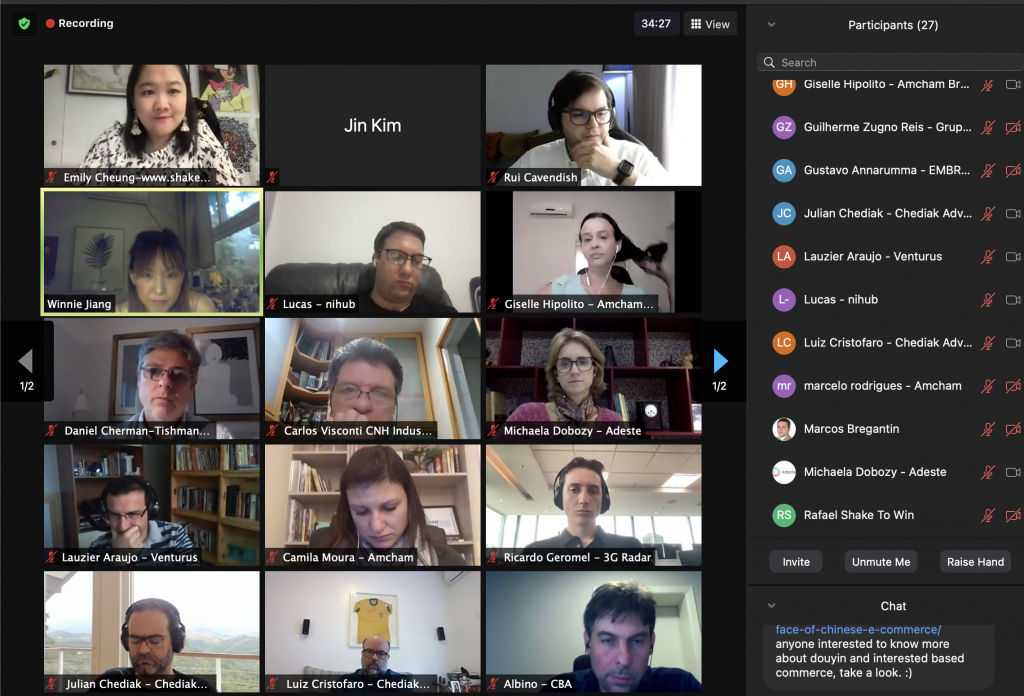 On the issue of talent acquisition and international competition, panelists showcased the imbalance between different countries and their policies. Lucas Rondez of Nihub details why China was able to develop so quickly with foreign talent and foreign-born Chinese. China has become one of the major hot spots for investment, startups, and business over the past decade. With its rapidly changing environment and highly competitive nature, it is able to retain and nurture high-quality talents and technology from all over the world. Also, with the growing spotlight on China's economic development, more foreign-born Chinese are looking to return with an advanced set of skills and knowledge that drives the country's growth. Such efforts are backed by beneficial government policies and programs. This is further supported by accelerators and innovation hubs such as those in Zhongshan Park, Beijing among others in both public and private sectors.
At the end of the panelists received questions from the audience on the future market trends to look out for with regard to innovative solutions. Along with the discussion, panelists showcased the growing market size and the increasing amount of new platforms that are being made for the Chinese market. New trends such as social commerce, cultural marketing, and new retail will take a bigger share of future investments. Meanwhile, foreign businesses will need to research and determine the best platforms to engage on when approaching the Chinese markets.
Looking towards innovative solutions targeted at the Chinese markets?
Shake to Win provides a quick and simple solution that facilitates entry into China's digital ecosystem. By offering a comprehensive scope of interlinked services such as localization, regulatory compliance, market consultation, digital payment & e-commerce integration, as well as promotional marketing campaigns and branding, Shake to Win is able to build value for brands efficiently at a low cost. At the same time, we value our clients' brand and integrity as part of our mission, to appreciate cultural understanding between China and the world. We have worked with brands, designers, as well as cultural institutes to help preserve what they have while at the same time helping them to reach out to Chinese consumers and future travels who are curious to learn, spend and share. Our experienced experts in Latin America, Europe, and Asia have been supporting their businesses to grow in China is one of the main reasons our partners work with us. If you are interested in any business collaboration or have any inquiries, please reach out to us at partnership@shaketowin.net.