Insight: 2020 China New Media Strategy Whitepaper Recap Pt.2 – Platform Mechanism and Showcase Sharing
In last week's article "2020 China New Media Strategy Whitepaper Recap Pt.1", we shared the latest China market trend and platform overview. This week, we will share the platform mechanism and some showcase. With the different strategic advantages of new media platform, how can we strengthen the marketing campaign effectiveness through multi-platform?
Seven platforms you have to know to promote your brand in China
Weibo and WeChat represent a social platform, Bilibili, Kuaishou and Chinese TikTok represents video content platform, Red and Taobao represent the e-commerce platform with content community channel, etc.
Because of their content channels, high consumer interaction and social fission communication characteristics, these seven platforms are the major ones for brands to invest in China. Different new media platforms have their advantages in terms of the focus topics, the participation and interaction model, the depth of content presentation and the efficiency of marketing ads spending.
Let's take a look at the analysis of the marketing strategy of these typical new media platform in 2020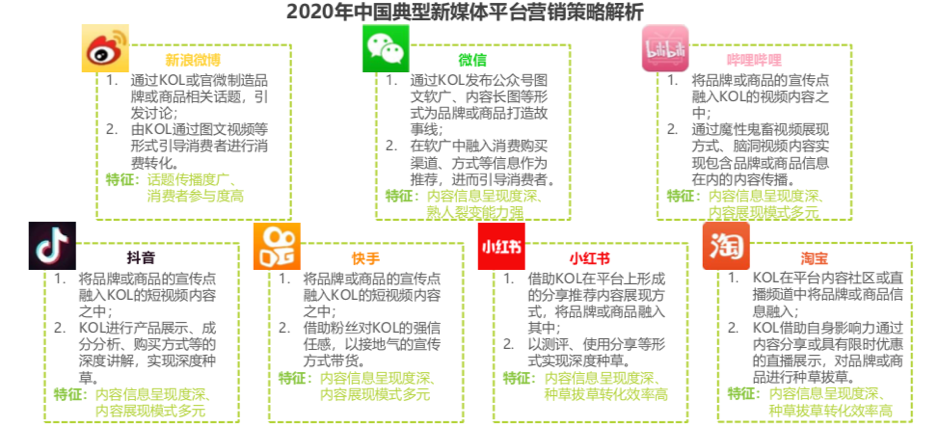 Weibo: It is easy to create high-traffic topics in its entertainment atmosphere; Weibo is an excellent platform to help the rapid spread of brands and goods awareness, to build visibility.
Weibo platform is easy to create or leverage popular topics. By attracting users to carry out extensive discussion and sharing, enhance the content dissemination, and ride on the marketing theme and content of brands and commodities, news and contents are also easy to be widely disseminated in the platform. Weibo platform's new media marketing campaign mainly by relying on the various KOLs to jointly create topics together with brands, participating in brands digital interactions and help to spread the hashtag # topics. If brands can be creative enough, Weibo is an excellent platform to build visibility and brand awareness and the content we created there; users can search through the Weibo search engine for researching purpose. Travel, cosmetic brands perform well in this platform on average.
WeChat: In-depth content and acquaintance relationship chain sharing habits, suitable for deep marketing content transmission
Because the users of WeChat platform have formed the reading habit of the long picture and text form, it has become one of the new media marketing characteristics of WeChat platform to carry out in-depth marketing of brands or commodities with the help of the pictures and texts. Moreover, the content channel that WeChat builds step by step also provides more and more marketing possibilities for KOL. For example, KOL can use graphic and text form to target consumers with relevant interests in WeChat circle. At the same time, KOL can also transfer more information to consumers in the way of the short video. As for transformation, WeChat can also help KOL and brands to guide consumers to link directly to WeStore for purchase, which makes the transformation process of marketing content more convenient.
Bilibili: Interest-oriented, with the help of brainstorming content to convey brand information to consumers
Bilibili platform is mainly for young users, who pay attention to the relevant UP owners (as users who upload videos) according to their interest direction. The more interesting their general content dissemination, the more relaxing atmosphere they created via videos, the more users will follow. The main new media marketing methods of the Bilibili platform are the brand joint UP owner to carry out a live broadcast to promote brands and commodities, as well as brand exposure, commodity recommendation, evaluation and guide purchase in the video clip of the UP masters. With the help of B station video "brain hole", "ghost livestock" and other features, quickly left a deep impression on consumers.
Red: The content characteristic is prominent, their consumers have a higher acceptance to product recommendation content
Red's powerful content sharing attribute makes it a higher trust object for consumers to produce shopping demand, choose brands and products, share their experience from the product use, meanwhile, it has become the organic recommendation engine for KOLs. The new media marketing method of Red mainly uses the influencers as head KOL and consumer's trust in medium level KOLs to deepen the consumer's memory of the brand or product by recommending, evaluating, carrying goods, opening the box, taking notes and so on. Through Red's mall and external trading channels, consumers are guided to purchase.
Chinese TikTok: KOL enhance the depth and authenticity of marketing content through short videos
As a pan-entertainment short video platform, their audience is wide. Short video transmission is wide. Through short video shooting, TikTok KOL recommends a product by sharing, evaluation and live stream to carry out marketing activities. In the form of video or live broadcast to try on goods, so that consumers understand the goods more truthfully. At the same time, the influence or authority of KOL followers can strengthen consumers' trust in brands or commodities, and effectively help brands to reach sales transformation through external links or TikTok mall.
Kuaishou: Strong promotion ability on the product by KOL, which strengthens the content transformation efficiency
Kuaishou platform has more realistic lifestyle KOL. Their followers have higher trust in KOL, which can more effectively promote the sale of goods through video or live recommendation. Kuaishou's new media marketing play is also around the KOL in short video sharing, evaluation, as well as live delivery. Their KOL recommendation or sales form is more "approachable". KOL's contact with consumers is more direct and has a high fan drive. Additionally, Kuaishou has their e-shop, but also through the combination of Youzan e-shop, link to external e-commerce and other forms, it opens up more marketing possibilities for KOL.
Taobao: the bridge between content and live streaming channel, which provides a platform for KOL's new media marketing
Along with the improvement of commodity trading system and the increasing demand of consumers for marketing content, in addition to the straight advertising and search/display advertising, Taobao platform has started to build content channels carrying graphics, short video information advertising and live streaming advertising in recent years. They provide efficient recommendation for consumers with the help of KOL. At the same time, The shopping intention of Taobao users is obvious, and it's new marketing strategy also further improve the conversion rate.
Taobao's main new media marketing methods:
Through the display of selected shopping evaluation to arouse consumer resonance;
Through KOL open box evaluation, the brand can strengthen the consumer's real perception and experience of good, and then occupy the consumers' mind deeply;
Through selected KOL who are suitable for brand's tone, commodity type and marketing promotion state and period, KOL uses open-box evaluation and other forms to raise the brand's awareness and strength the trust and attention between the brands and their consumers.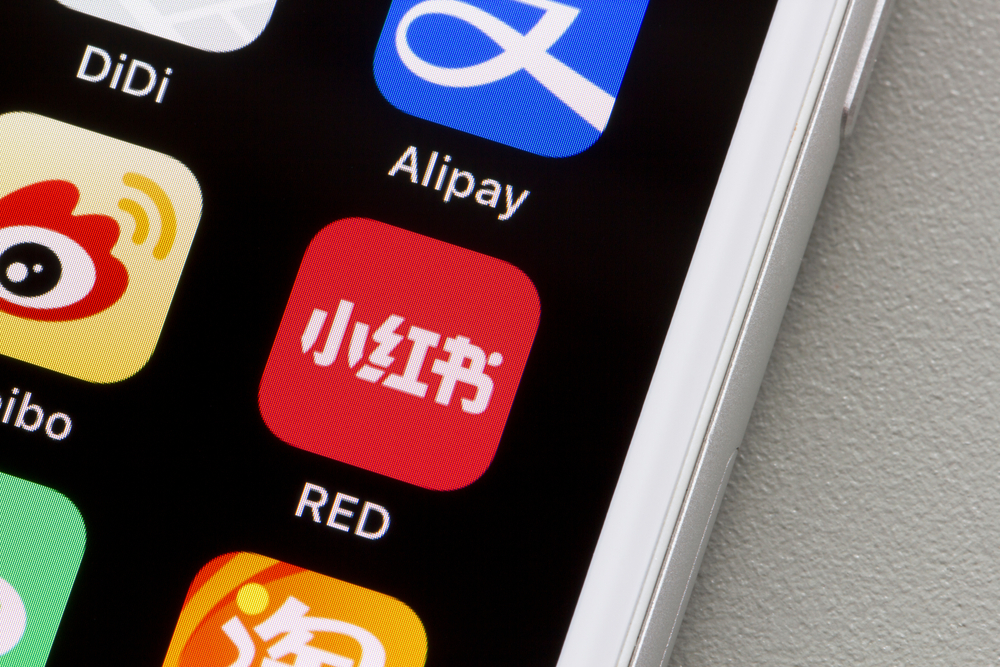 Let's take a look at a campaign showcase: "Lancome x MicroDreams" collaboration with suited KOLs to plant the product into a multi-channel recommendation
Marketing background: Lancome joined forces with the marketing agency MicroDreams to bring KOL to Seoul and participate in Lancome duty-free shop activities. Through experience and recommendation, promote Lancome travel package, and guide consumers to buy at the duty-free stores.
Marketing strategy:
Step 1: By using MicroDreams KolRank data products, they select suitable KOL in travel, fashion, lifestyle and beauty area.
Step 2: Invite KOL from the above area to Seoul and participate in a travel journey with Lancome duty-free luxury exhibition. The whole experience combined Lancome travel package product which enhances the marketing effect.
Step 3: Each KOL recommends a product to their followers through evaluation in the form of graphics, vlog and so on, to guide their followers to buy the specific products at the duty-free shop.
Platform selection: They used a cross-platform strategy to enhance the result. With the help of Weibo and WeChat for extensive dissemination and acquaintance fission, using Weibo to create topics and attract attention and using Red and Weibo for product evaluation and recommendation. Because of each different platform function, they complement each other. Therefore, the brand can achieve results rapidly.
In the end, the campaign reached more than 17.57 million readerships and 26,500 interaction.

Last but not least, for the brand to enter China market, it is essential to work with the right marketing agency or platform. Shake to Win as a SaaS platform in cultural tourism; we've gained over 100,000+ followers on Weibo, Wechat, Red and Bilibili in China. Strategic content marketing has been Shake to Win's focus on B2C marketing. We tailored the story into each platform's character to increase awareness. Work with us, save your time a lot.
China is a market full of opportunities and potential. The young consumers are looking forward to getting to know your brand. With our expertise, we hope to help more tourism and trade partners to innovate and fully leverage the virtual digital landscape to unleash the potential and make great business results and marketing impact. Are you interested in joining us?
Make your brands visible and remarkable in the China market during this particular timing. Interested in participating by subscribing to our ACCESS/ CONNECT/ TAKE packages or any marketing promotion service? Please send an email to partnership@shaketowin.net, and we will reach out to you within 24 hours (yup, that's our efficiency).
We look forward to creating value for your business soon!