Foreign flavors: How Chinese taste for wine spills into how they travel
As winemakers across Europe begin to open their cellars for the season, we decided to explore wine consumption in China and its relationship with Chinese wanderlust. Their taste for wine is a recent phenomenon and it has its particularities—as is the case with almost anything in China.
"Ganbei" is the Chinese word for "cheers," but literally it translates into "dry cup" or, in other words, "bottoms up!" That is precisely what they are doing with wine barrels as China ranks fifth in wine consumption worldwide, according to an IWSR Vinexpo report released in March this year.
But this wasn't always so.
Long before wine made its way onto romantic dinner tables or into people's homes, China had been producing and consuming alcoholic beverages for millennia. One of such beverages is baijiu, China's most iconic drink. How old exactly it is remains unknown, but baijiu dates back to the 2nd century BCE at the very least. Deeply rooted in China's long history and culture, it is a must at weddings, banquets, and business dinners. Distilled from fermented grains, baijiu contains on average between 40% to 60% of alcohol per volume and is consumed pure and in small doses. It isn't for the faint-hearted; etiquette dictates once served one must empty their glass, and hosts make sure to serve their guests multiple baijiu "shots." You may have never heard of it before, but it is, in fact, the world's best-selling spirit.
Broadly speaking, baijiu embodies traditional Chinese drinking culture: social, reserved for specific occasions, and rhythmed by a set of rituals and cultural rules. Wine as the world knows it, on the other hand, is a social drink as well, but in a different manner. It is meant to be examined, smelled, tasted and then sipped slowly—to be enjoyed, as it is associated with pleasure and stress relief.
In China, wine is a synonym of status; of sophistication of a foreign kind. This liquid sophistication is mostly red and French, as France is the largest source of wine imports into China. And despite a net decrease in imports last year, China is the second most Bordeaux-loving country outside of France, having spent 311 million Euros on 58 million bottles. Some go as far as buying vineyards in Bordeaux (and making quite peculiar name choices, to the French taste.)
Beyond buying and drinking, the Chinese continue to seek knowledge, but not necessarily for business purposes, as one may think. Already in 2012, 20% of candidates on the Wine & Spirit Education Trust's programmes were not from the drinks industry. Additionally, wine tasting activities, wine tours, and wine festivals have boomed in China in recent years, largely influenced by the domestic industry. While massive improvements in quality and increase in production and consumption of domestic wine are a fact, imports continue to grow and account for over 40% of the wine consumed domestically.
Opportunities are not limited to winemakers exporting to China, however.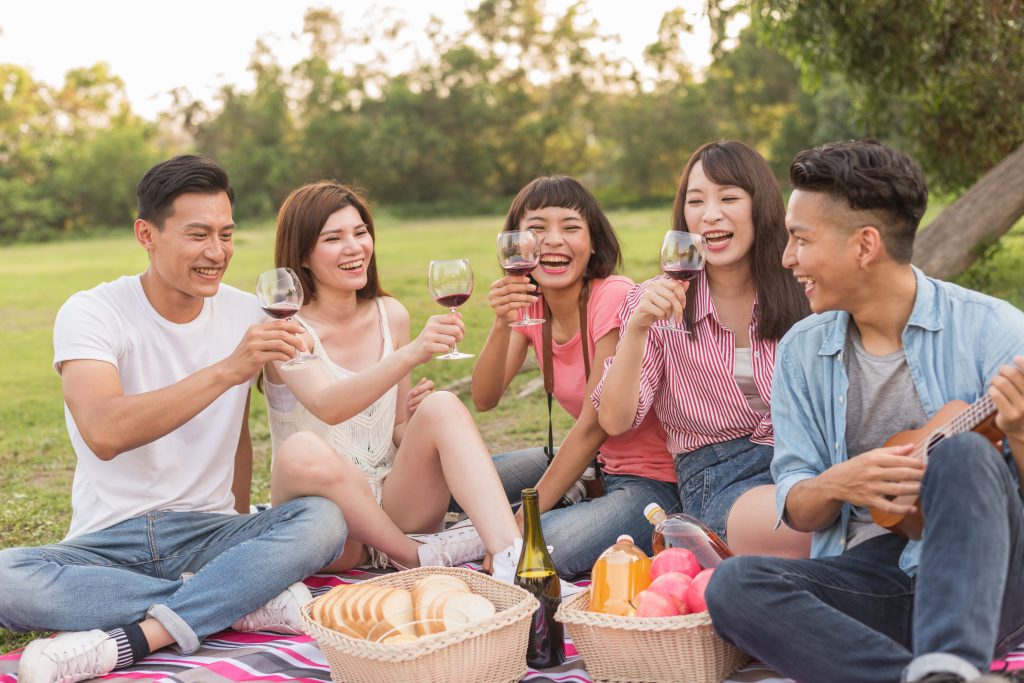 It is China's younger generations who are not only driving consumption of wine but also influencing how and, sooner than later, what kind of wine is consumed. In just a few years, wine has gone from being an exotic and expensive drink reserved for the richest, a few connoisseurs or high-ranking officials, to becoming something that younger generations not only consume but also enjoy—much like travelling independently.

As the young Chinese become more familiar with wine, the same curiosity and higher spending power that propels them to international adventures lead them to want to discover wines from the countries they visit. While they continue to appreciate what they know, they are also ready to taste something new: according to Daxue Consulting, a China-focused consulting firm, 86% of Chinese millennials are willing to buy a bottle of wine they have never tasted.
When abroad, their penchant for wine can take them further than drinking a local variety—it spills into a cultural experience, an all-inclusive route. After some sightseeing or visiting heritage sites, they move on to visit vineyards and cellars, enjoy a glass on the spot, and then bring a few bottles back home both as souvenirs and as gifts for family and friends.
Where Chinese independent travellers differ from luxury travellers is that the former are more likely to choose soft mobility or local transportation. They enjoy riding a bike through vineyards or boarding a train and stopping by different villages, as opposed to hiring a limousine driver, for instance.  
Moreover, for young Chinese independent travellers, it is also about coming into contact with the locals and finding unique experiences and products—not necessarily the most expensive or most famous ones, including wine.
Local businesses in winemaking regions in Europe and elsewhere who don't have the capacity or the intention to export wine into China or receive large group tours can count on Shake to Win. If you would like to promote your region to Chinese travellers who care about culture, or if you want to let a new China get to know your business, get in touch with us.
Below are some examples of places and activities carefully selected by the Shake to Win team. These spots are already discoverable for Chinese independent travellers via our app:
Bourgogne-Franche-Comté Region, France
The Burgundy Wine Museum houses and displays wines from ancient to modern times in a residence dating back to the 13th century. Wine lovers can also learn about Burgundy viticulture and wine-related art and traditions, as well as beautiful ancient winemaking equipment.
Château de Pommard is a magnificent privately-owned walled vineyard with centuries of history. Aside from the wine it produces, Chateau de Pommard offers different experiences, including harvesting. Options last between 45 minutes to 3 hours and prices range from 5 to 100 euros.
Active Tours offers self-guided and guided walking and cycling tours, as well as other experiences. Shake to Win users can benefit from a 15% discount on the "One Day Cycling Tour Through the Vineyards" and a 10% discount on the half-day version of the tour. During the tours, participants cycle through vineyards, surrounding villages, learn about grape varieties and taste local wines
Languedoc-Roussilon Region, France
Domaine du Mas d'Alphonse is a bed and breakfast offering beautiful rooms in a 18th century traditional Provençal building amidst local vineyards. They offer several wine-related, cultural and wellness experiences and activities. Through the Shake to Win app, Chinese travellers checking in at Domaine du Mas d'Alphonse get a free bottle of red wine as a gift.
Langhe Region, Italy
BikeSquare is a startup that promotes cycling with electric bikes around Italy. They offer e-bike rental services and guided tours in many locations, but it is in the Langhe region where Shake to Win app users can get a free entrance to a wine museum and free wine tasting by booking BikeSquare's e-bike vineyards tour.