The "New Normal" Redefining Traveling. How China will travel in the following months
As the Global travel sector has been affected as a result of the COVID-19 situation, with borders being closed and travel business struggling to survive.

China's economy has been slowly emerging and getting stronger as the nation begins to return to "normality". It is interesting to understand how the market will adjust to the "new normal" and also see how they will take on traveling.
A recent study was conducted by McKinsey & Company, where they surveyed 1600 travelers to show their travel patterns in the near term. The study tried to get as much information about who is planning to travel, where, how.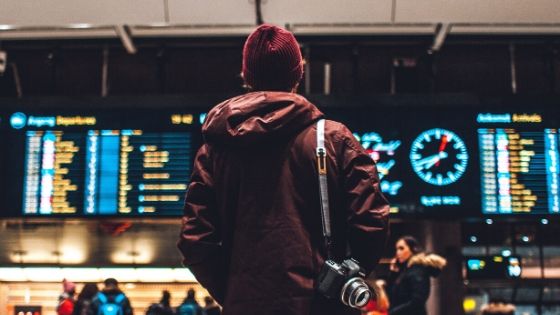 The study was surprisingly far from conservative. "13 per cent of travelers report that they plan to take a trip in the next three months. Intracity leisure trips are more popular, with slightly more than a third of respondents expecting to increase local leisure trips in the next month. Most travelers will continue to stay close to home; less than 5 per cent expect to increase their overnight domestic leisure trips." McKinsey & Company reports.
The report also states the travel-recovery peak will take place after September 2020 in China, the month where many are planning to resume their traveling plans. It is safe to say the overall sentiment among Chinese consumers has recovered fast in the last couple of weeks. "36 per cent of consumers optimistic about China's economy, when it comes to travel, the rebound in confidence appears to be slower." (Hitting the road again:
How Chinese travelers are thinking about their first trip after COVID-19, May 2020, McKinsey & Company)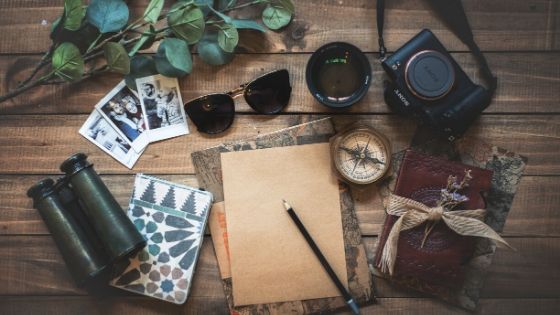 One of the key insights that stood out the most for us at Shake to Win, was that the study suggests that "Young, single, and experienced travelers expect to travel first." The most likely profile of a traveler to be taking a flight in the next 3 months, is profiled to be "generally young, single, middle-class, and experienced travelers. " This type of travelers are usually looking to travel slower and to have a more authentic experience with the culture from the country they are visiting. It is also important to highlight that some of these group have already travelled locally in the past few weeks.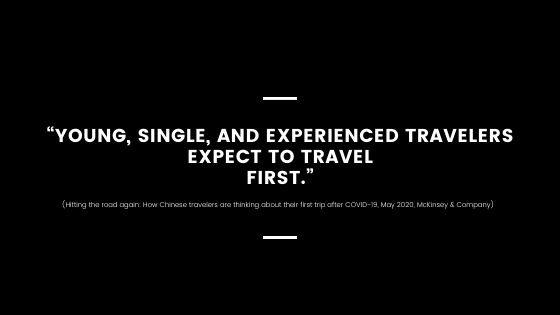 Food and family will make a destination attractive or not. Travelers will plan to avoid crowds, making shopping the bottom of the lint in interest for traveling. This is one of the major changes in Chinese behaviour caused by the crisis before shopping was one of the major attraction to travel for the Chinese outbound travelers.
Independent Chinese Travelers are also on the rise with leisure travel groups shrinking. "69 per cent of travelers planned to travel with family, either with their parents, or even with family members from across three generations. In a large reversal, 69 per cent of respondents now plan to travel solo, or with their significant other, compared with 30 per cent pre-epidemic."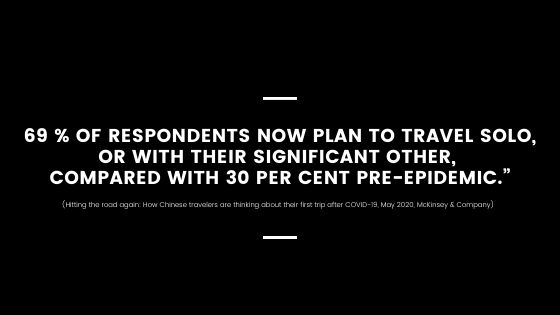 With the information extracted from this study it is safe to say that the players in the travel industry will also have to adjust and adapt. The report recommends working on three critical aspects,
1)Target Marketing:
The travel industry should look at categories of consumer behaviour patterns of those that intend to return to travel in the next three months. And gradually readjust to those that want to travel in the next three to six months and so on. Here is also a great opportunity to target those who have not yet defined their destination. Know your consumer and know how to talk to in your marketing.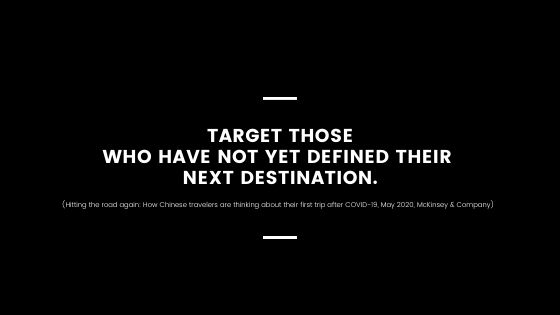 2) Adapt offerings:
The business will have to check their offerings since traveling will be shifting to smaller groups as well as younger and cosmopolitan. Travelers will most likely be looking to scale up their experience.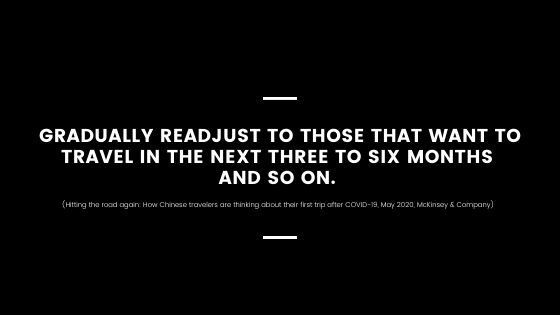 3) Watch opportunities in Retail:
Retailers will also have to take into consideration that travelers will traveling alone, a drastic change from the previous behaviours where families are traveling together where the higher spenders. This is an opportunity to brand to re-engage through experiences even if the purpose of the travel is not shopping.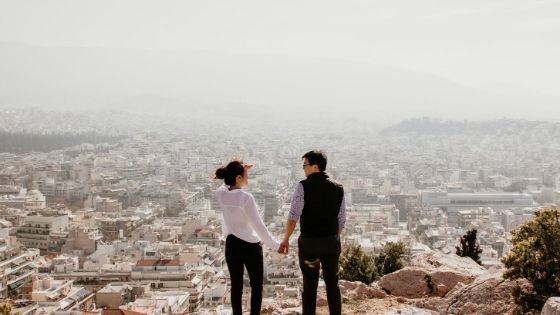 While we are all slowly coming back into the "new normal", we have to make clear that it will definitely be a "new normal" behaviours will have changed, and it is important to keep in contact with your target to continue to listen to their needs. The business should be prepared for the "first wave" of travelers posting on social media since this trend might accelerate in China, offering opportunities for the global industry.
If you have yet not started promoting your business in China, is getting late. Jumpstart your promotion in China with Shake to win, be online in just seven days. Start today to connect with your target markets and create stronger relationships with them. Contact us at comm@shaktowin.net or learn about our COVID-19 resource.