Shake to Win & Dutch designer brand – unfold. are invited to speak and showcase our collaboration in China at the Shenzhen International Industrial Design Fair on 2nd-4th Nov 2020
Shake to Win is landing on SZIDF 2020
Launching unfold. x Van Gogh Museum collaboration Art Derivatives
As the first Asia-Pacific shareholder of Van Gogh Site Foundation, NL, Shake to Win has brought its creative team and upcoming rapper MC Han to shoot and produce two music videos at 10 Van Gogh culture heritage sites in 2018. In 2019, we collaborated with the Pos 90s Hongkong artist Neil Wang to create the postcard collection "Van Gogh in Hongkong Series". We have never stopped the journey of promoting the stories, spirit and art of Van Gogh. We have tailored Van Gogh's culture into the younger generation and made it more interesting to experience. Watch below for the music video:
It's because of Van Gogh, our founder Emily Cheung met the two founders of the new Dutch designer brand unfold. in Madrid in 2019. They agreed to bring the art derivatives officially authorized by the Van Gogh Museum to every young Chinese consumer in China. After 9 months of preparation, we are about to release this exclusive cooperation at SZDIF (Shenzhen International Industrial Design Fair). "Shake to Win Select eShop – 赏游地心选" (our e-commerce platform) is also going to launch in November as well. Through the cooperative network of museums and independent designers around the world, more young Chinese consumers can learn the global culture, buy more exciting and artistic cultural products, create a new consumption model, and create the future of the cultural tourism industry together.
The e-commerce platform "Shake to Win Select eShop – 赏游地心选" which integrated in our WeChat mini-program is also the second key milestone of our company in the promotion of global culture and art sustainably.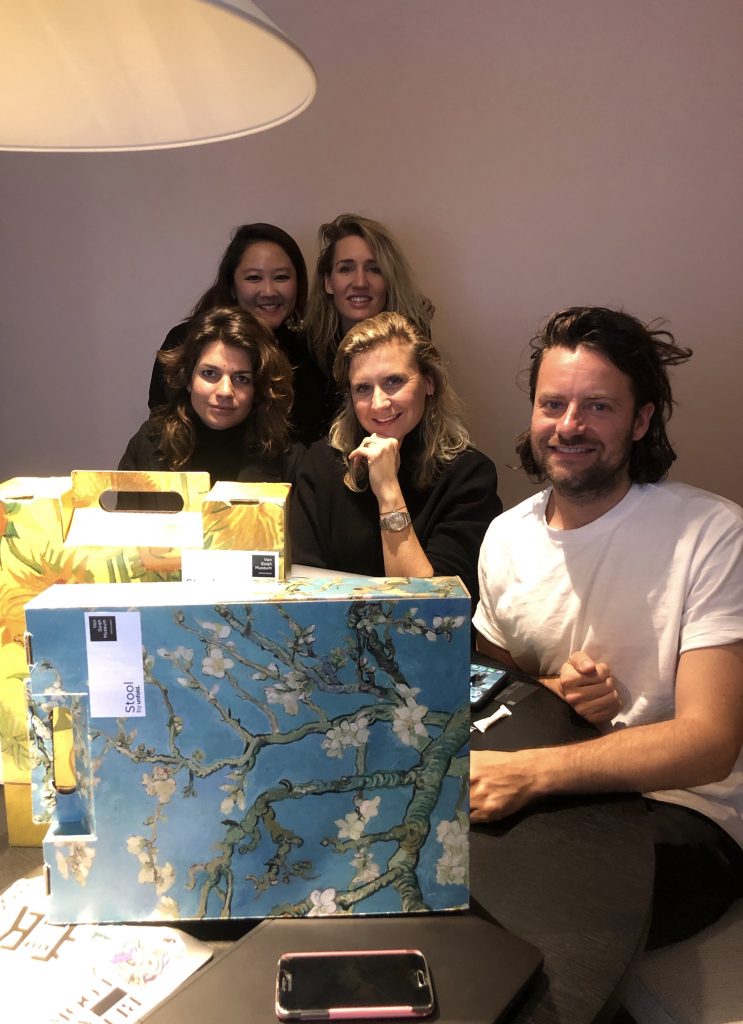 Since its establishment in 2018, the Shake to Win team has flown about 500,000 kilometres a year to establish exclusive business cooperation with more than 4000 cultural museums and niche cultural landmarks and green travel brands across 3 continents in the world – Europe, Mexico & LATAM, South Africa.  In 2019, we released our APP and WeChat Mini Program officially in Hong Kong and attracted 6,000,000 media impressions. Without any marketing budget, only through word of mouth and unique content, we successfully built an excellent users foundation, and we are happy to receive feedback from our users to keep improving day by day. The cumulative usage of the platform is close to 50,000, and we had a total of nearly 100,000 fans on the social media platform (Weibo, Wechat, Red, video platform). We are committed to integrating culture into the travel and daily life of every Chinese young people. "Fulfill your curiosity of local culture" is our motto. It is our vision to leverage technology and creativity to bring the world closer and encourage young people to preserve the world's culture.
"Shake to Win Select eShop – 赏游地心选"
e-commerce platform soft launch in November 2020
Chinese millennials can buy global cultural products online at home
Continuing our vision, we started to build "Shake to Win Select eShop – 赏游地心选" six months ago. This is an e-commerce platform to satisfy the new generation of China where they can buy cultural products from all over the world. We want to bring art and the concept of sustainable lifestyle into fruition. From the selection of the brands to products, we selected them very carefully to ensure that brand ideas can be effectively conveyed. The current brands are from France, Italy, Netherlands, Hong Kong and local designer brands. We hope to work together to promote global cultural exchanges and promote art and sustainable lifestyles.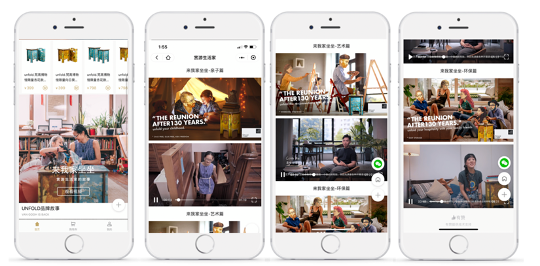 Shake to Win is a technology-based creativity-centric platform
It's not too late to reunite with Van Gogh after 130 years
Let's take a look at our creative brand marketing
Our first launched brand is the independent designer brand unfold. from the Netherlands with the Van Gogh Museum's official art derivatives. About Van Gogh's story, Shake to Win platform has everything you don't know, unique editorial articles like "Traveling with Van Gogh" to the "artistic life of Van Gogh's 15 landmarks in four countries preview". As the exclusive partner of unfold. in China (including Hong Kong and Macao), we have created a series of branding campaign key visuals, microfilms, and localised product shooting for unfold. to be released in mainland China. "The Reunion after 130 years" is the slogan. We have also collaborated with key opinion leaders. Offline promotion and creative campaigns are done by Shake to Win and our strategic partner CREATEC Digital.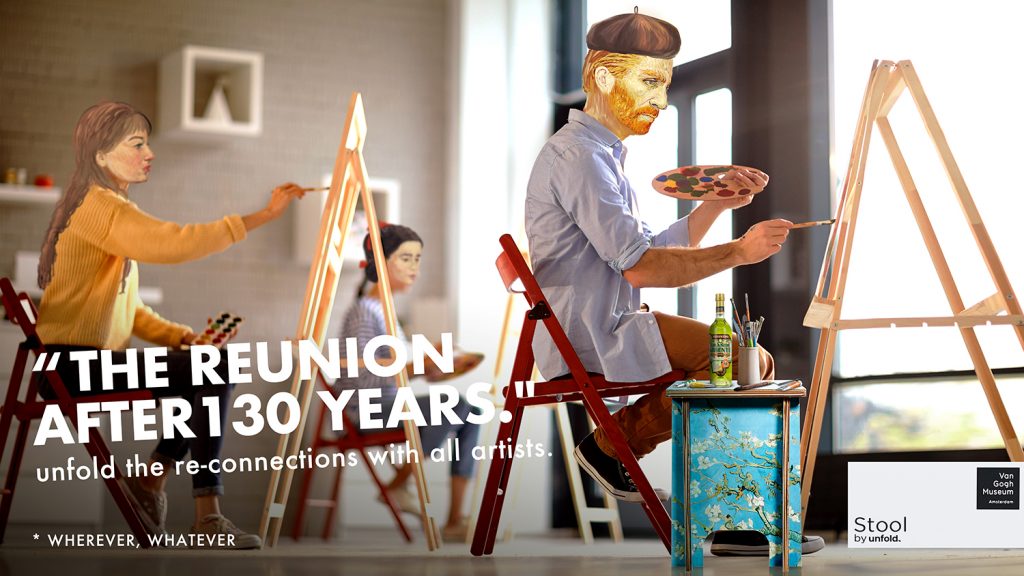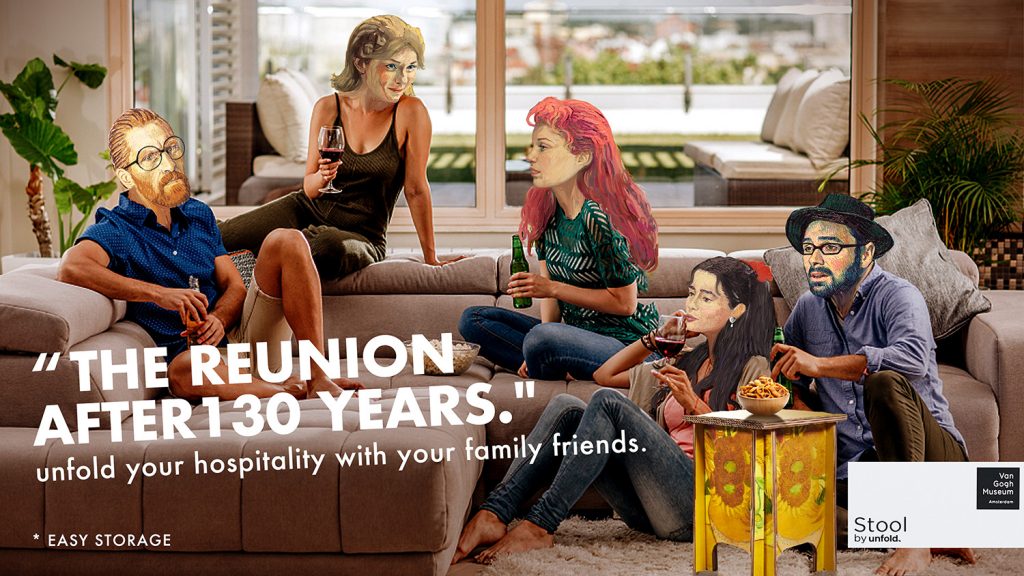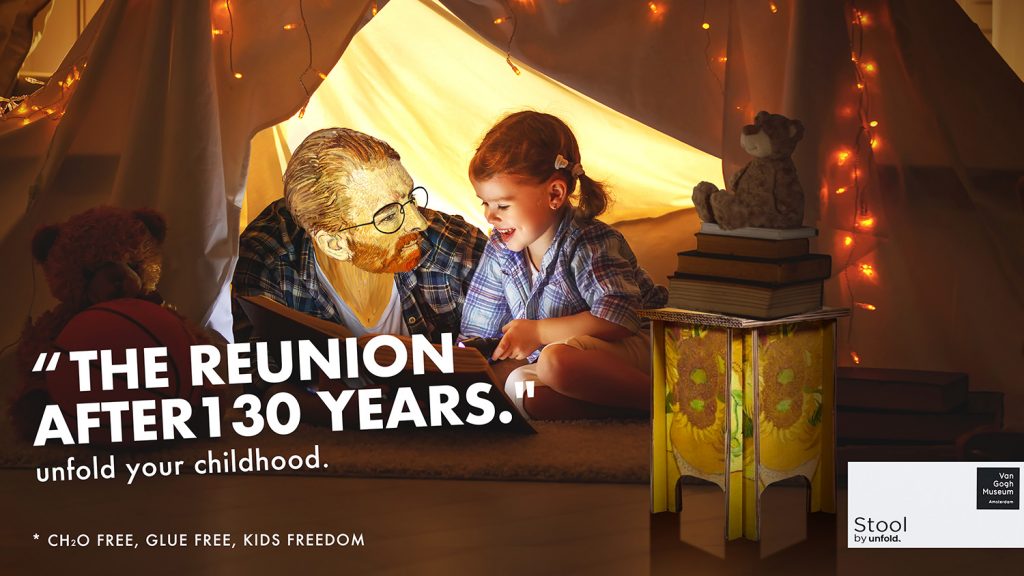 "The most tremendous respect for art is to use it daily in life, and today's consumers are no longer paying for what you do, but for why you do it. This creative campaign we created for unfold. brings culture and art into everyone's home. Appreciation of culture and art is easy as it is. To unfold a chair is the beginning of unfolding the global culture. We created three scenarios using the product stools, enabling art continues to cultivate everyone's life, thus creating a story for unfold. which has the local languages and Chinese are easy to understand the product features and the brand DNAs. We are pleased to explore more artistic, cultural and marketing collaborations with the founders of Shake to Win and unfold."

The founder and chief creative officer Adam Chen from CREATEC Digital
Apart from unfold., more brands are going to be online on the "Shake to Win Select eShop – 赏游地心选", including independent  Dutch designer brand catham.city, travel lifestyle brand KIWEE, independent Hongkong designer brand ZOEE and French jewellery designer brand Nach Bijoux. More brands are looking to join the Shake to Win e-commerce platform.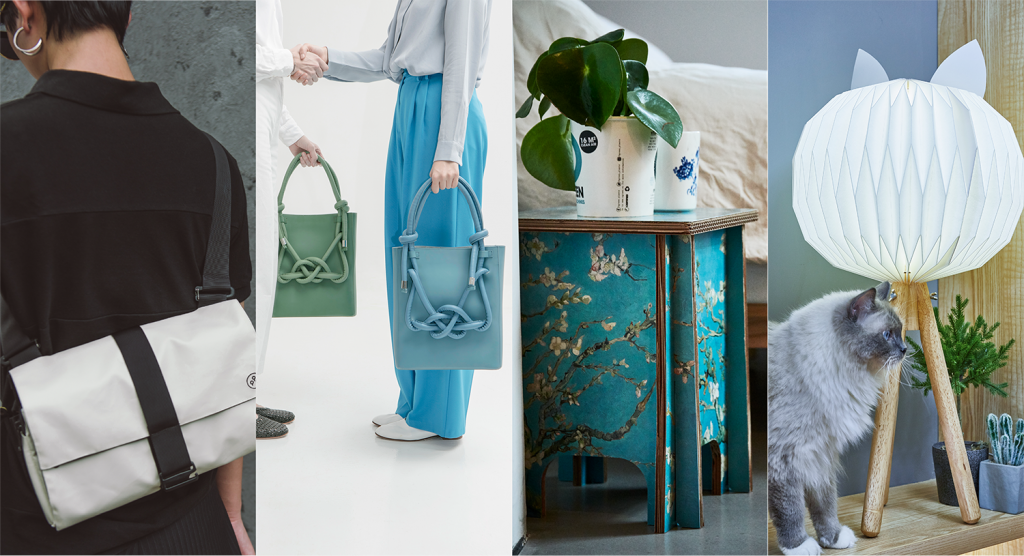 Invited by the Dutch Embassy Guangzhou
Shake to Win will make a speech in the mainstage of SZIDF
With the theme of "SURVIVAL BY DESIGN: from Darwinism to…", The 8th Shenzhen International Industrial Design Fair(SZIDF) actively integrates into the general pattern of industrial design development in the world, regarding international exhibitions, it has significantly improved in terms of exhibitor standard, business matching services, branding & promotion, design activities, internationalization, and so on. At The same time, The Great One award selection activities, a global design value summit, a design gala and The Great One award ceremony, 20 international new product launches, and other design activities will be held within the 3 days of the fair. The exhibition has built a global, professional, diversified and cooperation platform. There will be many domestic and foreign designers speeches as well as topic discussions.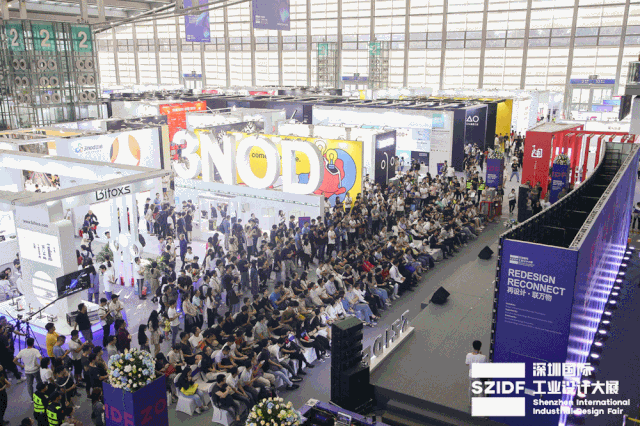 The exhibition area is around 15,000 square meters, with 7 exhibition areas including a Holistic Design Service area, a Future-Tech Value Chain Partner area, a Design Start-up & Incubation area, an international design exhibition area, a Shenzhen local design exhibition area, a Design Support and Marketing area, and a Design education area. Exhibiting over 7,000 pieces of design boutiques from more than 30 countries (regions) such as England, Germany, the United States, France, the Netherlands, Denmark, Italy, South Korea, Japan, Canada, and Finland.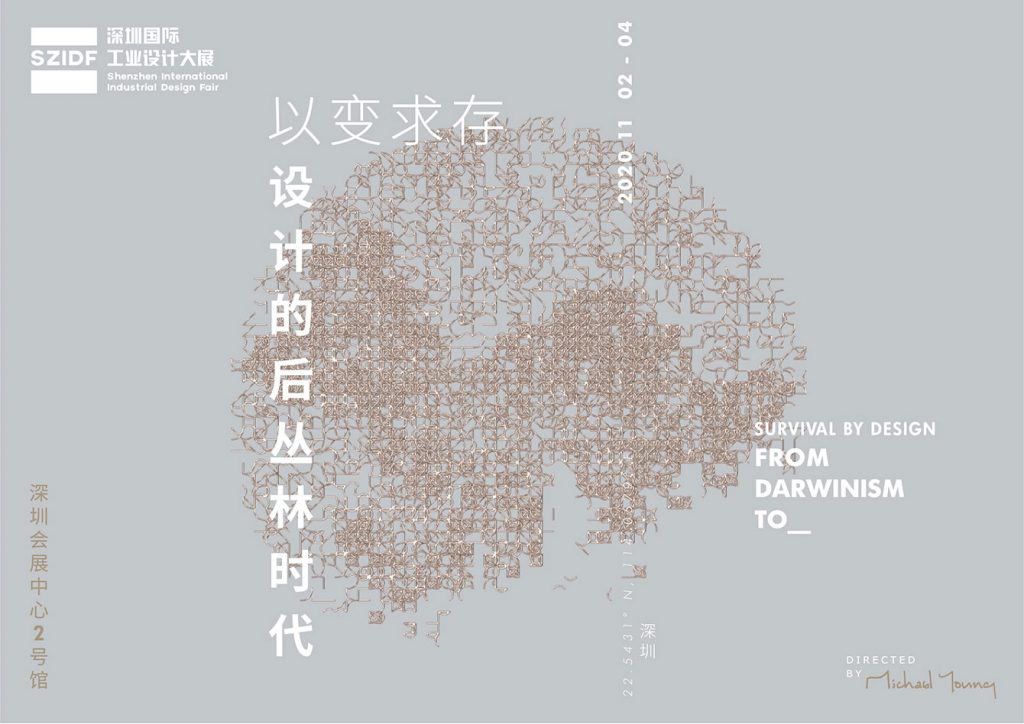 The 8th Shenzhen International Industrial Design Fair (SZIDF)
Date: Nov. 2 to Nov. 4, 2020Venue: Hall 2, Shenzhen Convention and Exhibition Center (SZCEC)
Shake to Win x unfold. booth no.: B1-4
Shake to Win speech: HUB area D1 (16:40-17:10, November 2)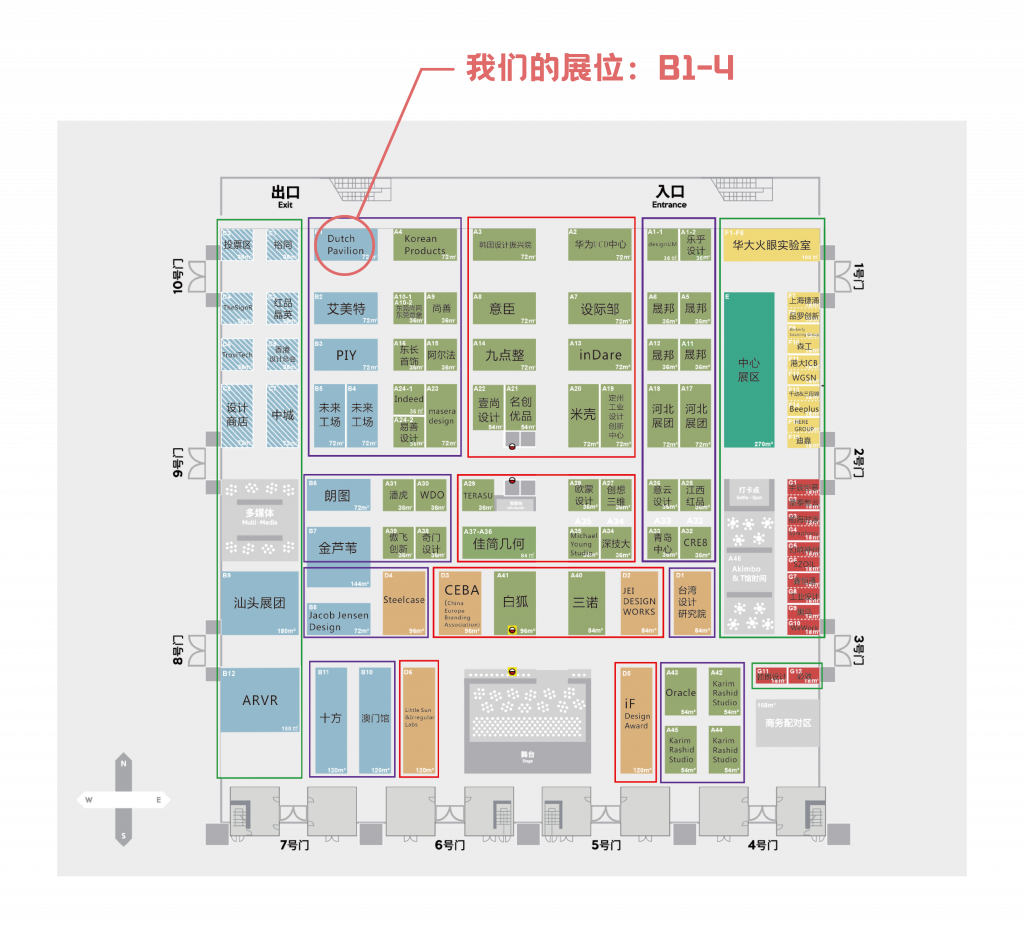 China is a market full of opportunities and potential. The young consumers are looking forward to getting to know your brand. With our expertise, we hope to help more tourism and trade partners to innovate and fully leverage the virtual digital landscape to unleash its potential and make great business results and marketing impact. Are you interested in joining us?
Make your brands visible and remarkable in the Chinese market during this particular timing. Interested in participating by subscribing to our ACCESS/ CONNECT/ TAKE packages or any marketing promotion service? Please send an email to partnership@shaketowin.net, and we will reach out to you within 24 hours (yup, that that's our efficiency).
We look forward to creating value for your business soon!