[Webinar Recap] Connecting the Dots with China: Overcoming China Market Barriers
On March 18th STW Innovation Group held its first webinar of 2022. With the underlying circumstances we face today, the realm of business is rapidly changing through technology. Markets are more international than ever with market expansion and brand awareness abroad becoming a key part of a company's development. Through the webinar, the audience was able to get more insights about doing business in one of the world's major economies, China. 3 expert speakers brought about interesting knowledge about business challenges in China, as well as important considerations when reaching out to new markets such as regional policy, technology, travel, and barriers of entry. With these insights, the webinar aims to raise awareness of the importance of the China market and how business owners have facilitated market access.
The event which was organized by the STW Innovation Group with the support of the AsiaCEO community, OCEAHUB, Amigos Uruguay-China, Generadores de Negocios, Universidad Cristóbal Colón, Universidad del Valle de Mexico, Colegio Bilingüe Báltico, and Organismos Sociales. We would like to give a special thanks to all the supporters, speakers Dr. Samson Chan, Gary Lam, Julio Cesar, Rafael Vega, Emily Cheung as well as all the attendees.
About STW Webinar Series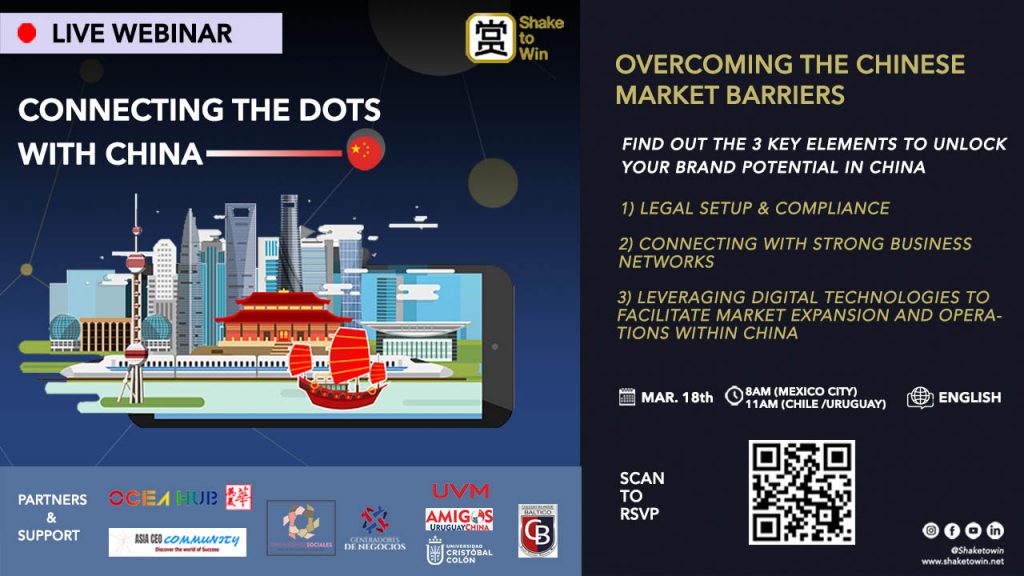 The STW Webinar Series, Connecting the Dots with China, is a 60-minute virtual conference held over multiple iterations with an audience of about 100 with key stakeholders from Latin America, China, Europe, and more. A large part of our audience will be from partnering universities and worldwide business networks with an interest in business development through innovation, technology, and the Chinese market. This includes students, entrepreneurs, municipality officials, cultural institutions, and more.
The aim of these webinars is to bring together forward-looking thought leaders and decision-makers to discuss a range of related subject matter, to drive interest, positive change, and inspire the future leaders of the world to connect with China economically, emotionally, and culturally- in the hopes to build a more accessible business environment despite the slowdown of the world economy, to learn from the best resources available to lead sustainable business development.
Event Summary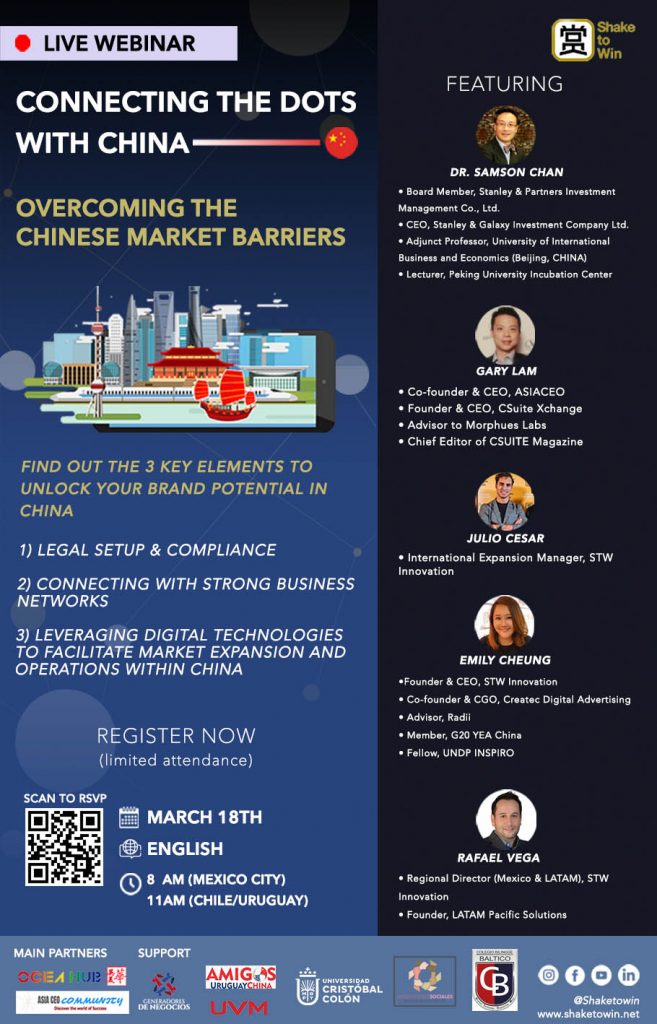 With the opening speech from the Founder & CEO of STW Innovation Group, the event kicked off with a presentation from Julio Cesar, International Expansion Manager of STW Innovation Group on the new digital order driven by the pandemic. 
Julio Cesar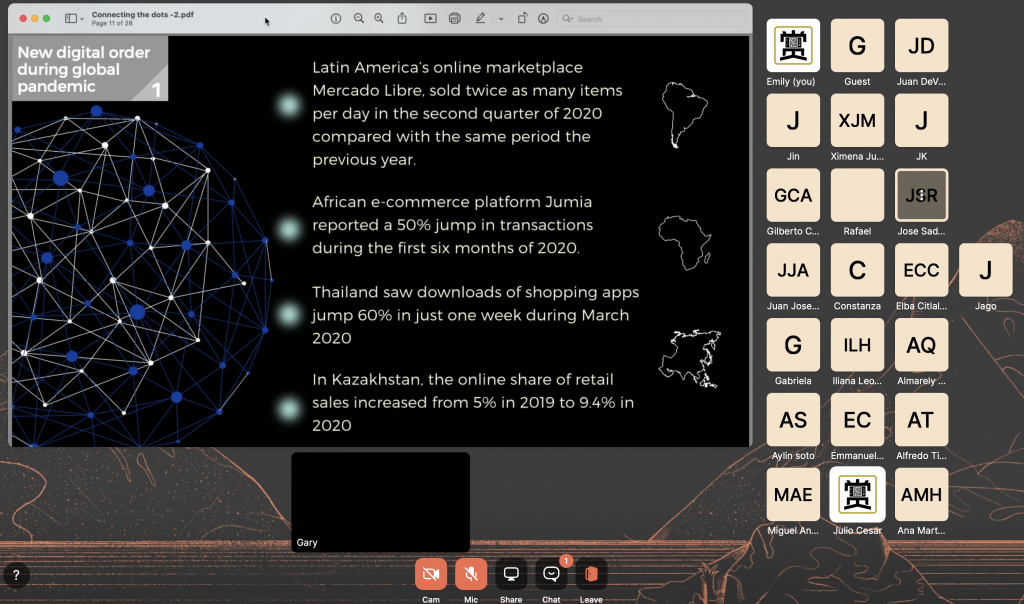 Domestic and international travel revenues saw a 45% and 69.4% drop respectively, leading businesses to look towards the online market to sustain themselves. During this time, industry leaders, regulators, and governments sped up the rate of digital transformation within industries. Showcasing the expansion of the digital market around the world, it is clear that sectors such as e-commerce and online retail saw significant growth around the world.
With this in mind, the speaker highlights how the Chinese market has undergone digitalization since before the pandemic and the logic behind the need to connect with its large digital population which is approximately over 900 million consumers. China is a special case as understanding how to navigate its market takes time, but to simplify the speaker further details how the Chinese version of the internet is separated from the world. Major platforms such as Facebook, Google, Instagram, and Youtube are all inaccessible and China maintains its own major social media platforms such as WeChat and Weibo. Being present in such platforms and engaging consumers here is a must as that is where most consumers spend their time. Digital payment is also very commonplace, so much so that there is a joke that even beggars ask for money through the two main digital payment systems, WeChat Pay and Alipay. As a comparison, there are 55% of internet users have made mobile payments in China versus only 19% in the US. Marketing in China certainly presents itself as a challenge for reaching a wider Chinese audience. One relative tool that facilitates this process is the STW SaaS platform which links merchants with Chinese consumers to help raise their brand presence in China through content, translation, and localization. The key point is, finding the right partner to navigate complexities such as language, culture, regulations, and licensing. By setting up the relevant infrastructure and building a connection with consumers, businesses will be able to grow efficiently and remain relevant within the Chinese consumers' minds.
Dr. Samson Chan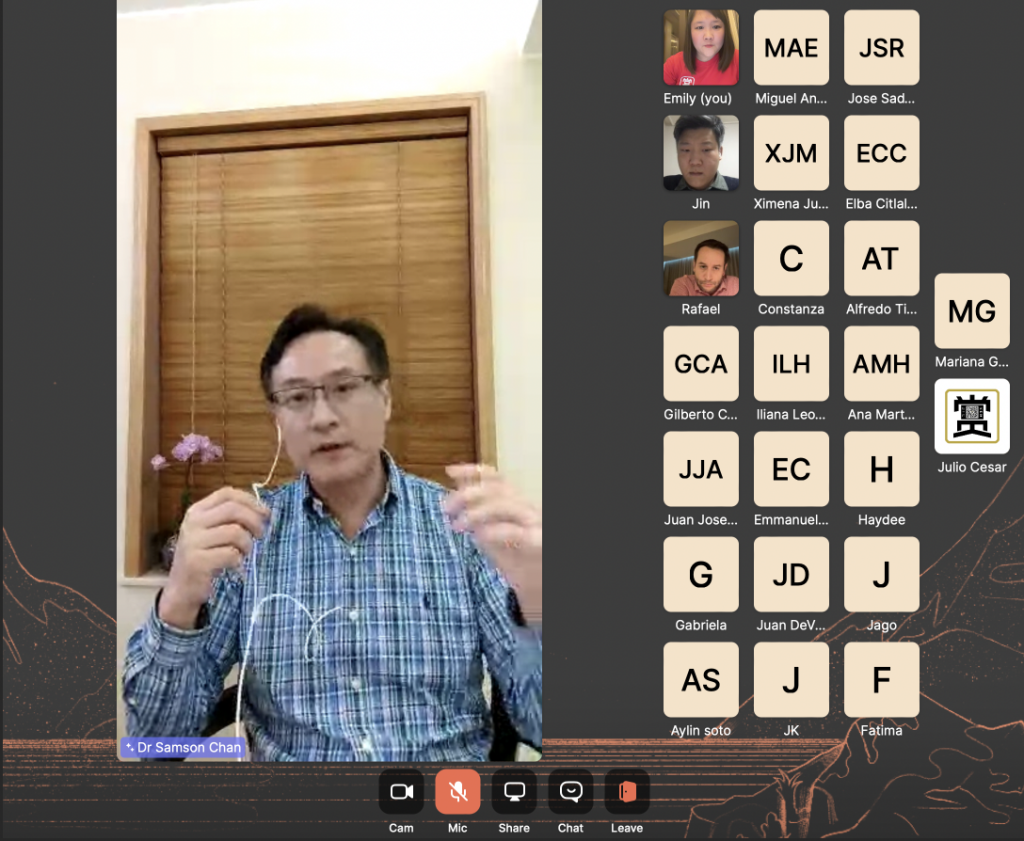 How does one approach the Chinese market and where does one go? Dr. Chan highlights the development of China through its different regions and the relevance of understanding how its markets are formed. China which boasts a size of over 9.5 million km², is almost as big as the size of the US which stands at over 9.8 million km². Each different region of China developed with its own unique focus resulting in certain areas providing different economic situations that rely on varying industries. Shenzhen has been associated as the Silicon Valley of China, Guangzhou is a large base for manufacturing and trade fairs, Shanghai is known for its high-end and fast-paced business activities, and the list goes on. Another vital factor for finding the right area to target within China also depends on legal and regulatory differences such as the more apparent differences between business experience and tax benefits in mainland China vs. Hong Kong.
During his speech, he also explains how the scale of each municipal region offers different opportunities that can be compared to the scale of a country. Instead of seeing China as a whole, it is more relevant to view these regions as several countries within. For example, Shenzhen, a tier-1 city, had a GDP of $471 billion in 2021, which is bigger than that of countries like Australia, Norway, the United Arab Emirates, and more. What is more surprising is that these regions are still seeing relative growth every year. With these considerations, companies should adjust their go-to-market strategies according to the regional fit and incentives that they could leverage for having a successful market entry in the Chinese markets. While the current global market has slowed down market growth, investing in China provides a significant opportunity of seeing potential exponential growth over time.
Gary Lam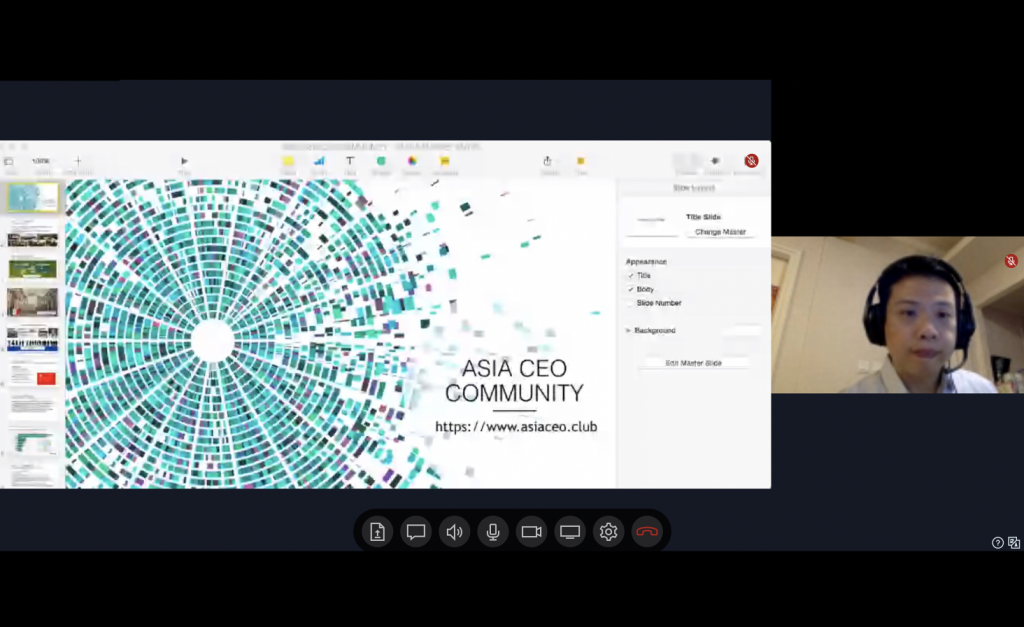 While Gary Lam, unfortunately, could not join this event due to technical issues, Emily Cheung represented the AsiaCEO community as a member to share what Gary had prepared. While digitalization is important for doing business in China, it may not suit every business model. Having a strong network of partners, collaborators, and market facilitators save a lot of time when trying to activate the Chinese market. With the current pandemic, political tensions, strict travel restrictions, and the conflict in Ukraine underway, doing business abroad has brought about unforeseen challenges and considerations for companies all over the world. These are all factors that make it difficult for businesses to consider taking their businesses to Asia. However, China's current economic and political environment is not as unapproachable as people imagine. The presentation highlights that the common misconception of doing business in China is associated with IP infringement, complicated business licensing, and registration processes. However, this is not the case. Over the past few years, China has been constantly improving the business process for foreign businesses operating in China. Enterprises can be wholly foreign-owned, administrative processes are much more simplified, and there are many incentives for innovative technologies and laws and regulations on IP and registration are invested in providing a fair and protected business environment.
The charm of the AsiaCEO community is that it is a growing international network of C-level members that can meet, interact, and collaborate together to build better solutions around the world. With over 14,000 C-level Executives and business owners in Asia, 22+ chapters around the world, and 140+ Chapter Presidents, Committee Members & Advisors around the world. The community becomes a valuable business network that acts as a catalyst for strong business growth. This type of network is vital in the Chinese market as it follows a common business practice in China known as Guanxi. Guanxi translated as relationship refers to connections and networks that can be used to grant beneficial opportunities for creating new businesses and facilitating deals. The more guanxi one has, the more business opportunities arise. Long-lasting relationships in China are the foundation for successful businesses in China. At the end of the event, the presentation was closed with the special announcement of the launch of the Mexico chapter in partnership with the STW Innovation Group which will be the first point of building connections with stakeholders in China for the Latin American markets. Leading the Mexico chapter will be the newly appointed president, Rafael Vega, Regional Director (Mexico & Latin America) of STW Innovation Group.
We would like to thank everyone again and look forward to seeing you at our next webinar which will share insights on the Chinese travel industry. In the meanwhile, if you would like to know more about the speakers or their platforms please feel free to check out to the respective speaker platforms below.
Unlock New China during the COVID era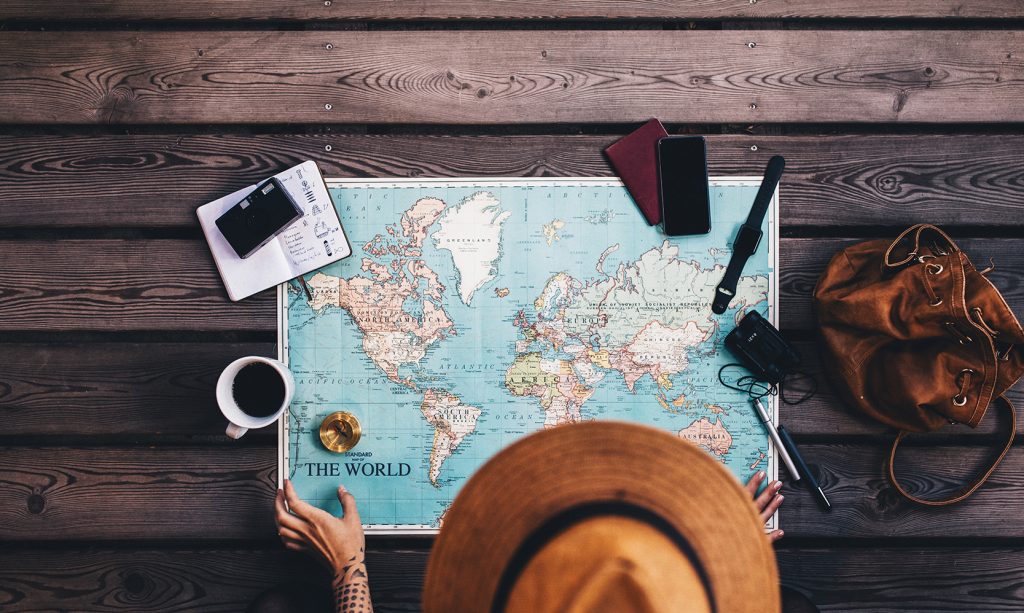 Entering the Chinese market takes time and extensive research as well as a deep understanding of consumer insights, trends, and local behaviors. Engaging in all these activities may be expensive and impossible for small to medium-sized businesses around the world. With the added constraints of COVID-19, finding an efficient and cost-effective solution is vital to unlocking the potential of the Chinese market. However, finding partners that can digest both the international and local Chinese perspectives can be hard and risky.
Under the goal of connecting global cultures to the Chinese youth, Shake to Win has been facilitating China market access for SMEs, cultural organizations, as well as public institutions from all over the world, building commercial and emotional bridges between distinct nations and helping Chinese consumers to reach the most unique places, products, and people. We offer an extensive range of services including localization, social media, online marketing, offline campaigns, e-commerce, and more, leaving you to focus on your business without the need to learn Chinese from your local destination. For more information or business collaboration please contact, partnership@shaketowin.net or try out Shake to Win by clicking the button below.