IECIA interviews Shake to Win founder on linking young Chinese to appreciate world culture
The COVID-19 epidemic has brought about drastic changes and raised concerns about the sustainability of the tourism industry. Change has become necessary, with offline businesses going online and new forms of technology being implemented to fill the economic gap left by the closing of borders over the past two years.
Now, consumers have turned to a more digitally integrated lifestyle where data, convenience, and systemization have become the foundation of consumption and the global economy. With these factors in mind, the role innovation plays in the tourism industry will largely impact the future of the industry. In order to further explore this and the insights behind these experiences, the International Entrepreneurs, Creatives & Innovators Association (IECIA) sat down with our founder and CEO of Shake to Win, Emily Cheung at our Shanghai office.
Founded in 2014, IECIA (InternationalEntrepreneurs, Creatives & Innovators Association) is the first global non-profit committed to promotion, recognition, research, training, and consulting of innovation in the digital economy. IECI achieves innovation through the recognition of ECI awards and the education of ECI academy and provides resources and services through ECI funds to promote the cooperation and win-win among entrepreneurs (E), creatives (C), and innovators (I) in the innovation chain of the digital economy industry. They often feature innovative companies and entrepreneurs to empower their stories and provide insights through discussions on current events as well as future trends. Here are some highlights from the interview: 
A stepping stone for young Chinese cultural consumers
Emily Cheung created Shake to Win to establish a better platform from which young Chinese audiences could connect with unique and lesser-known cultures around the world. She was eager to discover the stories and history behind the museums, cultural institutions, and local businesses that she would visit and felt there was no platform that could fulfill her curiosity. She found that most of the world misunderstood Chinese travelers as shoppers and wanted to change the stereotype for others like her. For her, travel was the most rewarding when she visited the most local of places rather than mainstream tourist attractions that were constantly being pushed by major travel platforms. On the uniqueness of Shake to Win's value, she further added.
"We are investing in the future of young Chinese people, to open up their global vision and let every young person become China's most powerful business card, making this a reality through cultural travel and consumption. The value in this goes beyond commercial value…  Every merchant has become a unique part of our products, and every user's in-depth experience has also become our product. As part of the value, our understanding of culture, deep exploration of experience, and persistence in creating value have all become our uniqueness. Because I believe that the essence of entrepreneurship is to create continuous value, I have insisted on this idea after starting a business twice."
Overcoming the limitations of an epidemic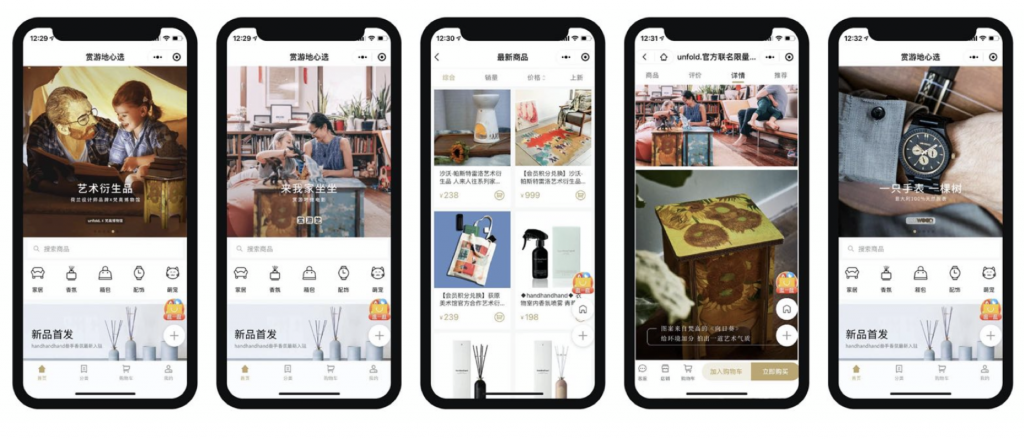 Shake to Win covers more than 4000 merchants in 18 countries worldwide. The implication of border closures and social distancing was a great challenge for the team of Shake to Win. How does one push consumers to take interest in culture when the opportunities of experiencing them in person have been hampered? What can be done for the many small merchants whose livelihood has been impacted? 
When the virus first emerged, Emily was in Berlin at the time. She quickly realized that travel will no longer be the same as her experiences and it led her to look at the most vital changes she would need to implement. This was innovation. Shake to Win could not stop and needed to rethink how it could accomplish its goal of connecting young Chinese people to global cultures leveraging technology. Within 6 months she created a platform for consumers to experience cultural products and goods to expand the Shake to Win offers.
"During the epidemic last year, we thought of building a platform for a cultural mall in order to satisfy users so that they can buy global culture, environmental protection, and niche designer goods without leaving their homes. We would help to promote the products and culture, and consumers could buy them. So we created from scratch a cultural e-commerce company that "chooses from the best of travel destinations". It took less than 6 months from the development stage to the preparation to launch, and the trial was launched in November. Now, there are about 15 self-operated brands in our Shake to Win Select e-shop, selling more than 130 SKUs, including the joint products of Dutch designers and the Van Gogh Museum, foreign SME products, designer brands, etc… "
Empowering brands through IP crossovers
Culture plays a big role for the younger consumers of China as it becomes a key interest and an impactful part of their identity. Emphasizing the importance of cultural relevance in marketing has been one of the key drivers for Emily not only as a startup owner but also as a veteran in the field of marketing and advertising. Creating value for consumers using culture has allowed brands to differentiate themselves while also helping them to build logical strategies on how consumers behave. As a case, Emily explains the cooperation between Shake to Win and the Van Gogh Heritage Foundation in the Netherlands. Through the collaboration, Shake to Win brought a rapper to interact and create songs to promote the heritage and landmark of Van Gogh adapted for young Chinese audiences in a playful and trendy manner, giving audiences a fun way to interact with the stories and destinations behind Van Gogh and his long-lasting heritage.
On the question of the current scope of IP innovation, Emily reiterates culture's role for cross-border entry for brands hoping to build a future in China. While it is commonplace to see cultural figures reimagined into illustrations and pictures that match a brand persona, the value is built from the stories that further bleed into a consumer's lifestyle.
"IP crossovers should not be purely about putting pictures on objects, but should think clearly about how to integrate the cultural value of IP and the concept of the brand, how to empower the brand, and how to create a culture for consumers value? These are things that I often think about and that the brand owners often want to discuss…With the iterative changes of young consumers, we need to think deeply about the strategies and logic behind everything we do. I think this part of the future in China is also from a marketing perspective. It will be an area that many brand owners want to explore. Shake to Win is ready to be that cultural cross-border planner. Everyone is welcome to come and discuss with us what exactly is cultural crossover."
Thank you to the team at IECIA for the interview!
The original interview can be found here. (Chinese only)
For any business queries or collaboration please contact partnership@shaketowin.net.