Founder & CEO, Emily Cheung appointed as new Secretary General of ECI Awards Art-Tech Committee
On the 31st of July, Dr. Owen (Lijun Jia), founder of IECIA (International Entrepreneurs Creatives & Innovators Association) invited Shake to Win founder & CEO, Emily Cheung to officially appoint her as the new Secretary General of ECI Awards Art-Tech Committee. The appointment was made after deliberation with the IECIA board of directors and was passed on to Emily by their Global Chairman, Raymond So Suxiong.
"In 2022, the ECI@ArtTech Professional Committee will open a global advisory group model and refer to the "Council" operation and management mechanism, and continue to adhere to IECIA's mission, "Bring Innovation to Life" , with continuous innovative thinking, attitude to serve the industry and society, unite and organize more ArtTech innovation chain ecological partner institutions and experts, and carry out work in a more systematic and organized way."

Emily Cheung, Secretary General of ECI Awards Art-Tech Committee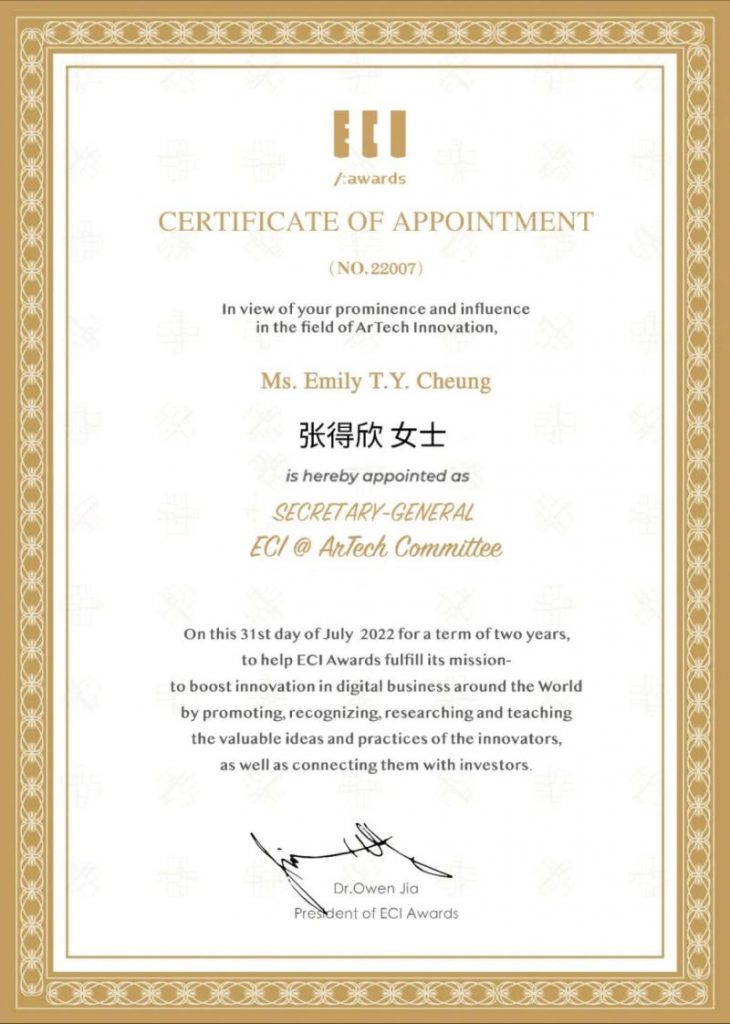 What is the ECI Art-Tech Committee?
The ECI ArtTech Innovation Professional Committee is committed to promoting the development of the ArtTech industrial ecology, deeply exploring how the art and culture industry can develop new business models by leveraging technology applications, and empowering cultural dissemination and cross-border interactions. The ECI@ArtTech Art Technology Innovation Professional Committee will invite senior industry practitioners, artists, curators, technology pioneers, etc. at home and abroad, through monthly online/offline seminars and planning annual large-scale young artists' cross-border brand public welfare. The project aims to cultivate digital talents in art, promote exchanges between domestic and foreign art and cultural industries, and jointly create and build an ecological chain with more sustainable potential.
About Emily Cheung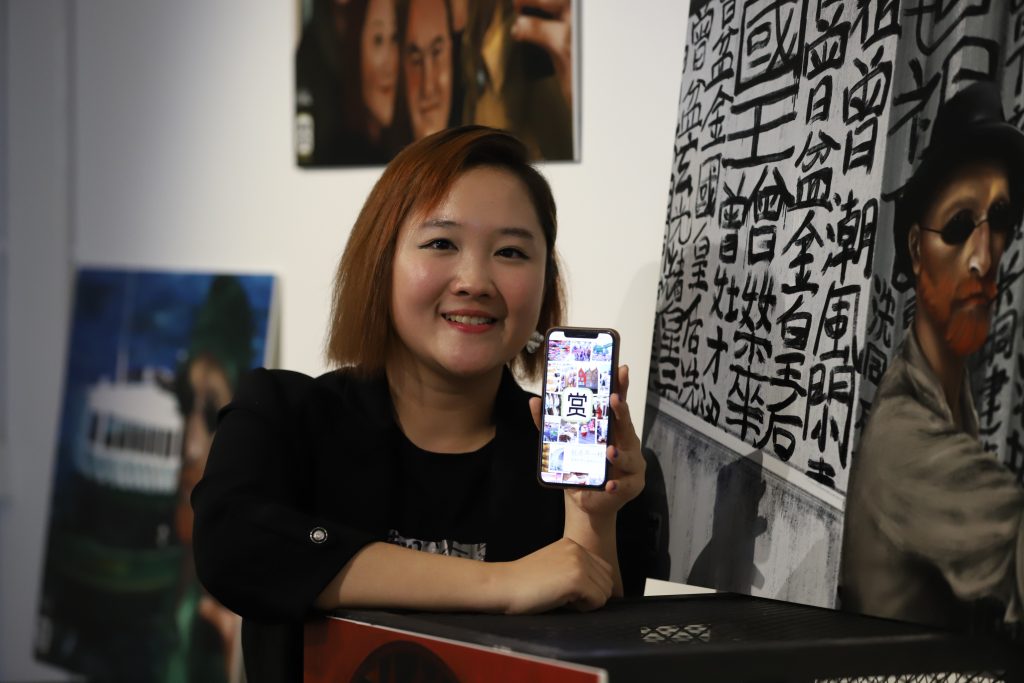 "I think innovation should be integrated into life, and all innovation should originate from the observation of human nature. Entrepreneurs who live with their hearts often find some overlooked and valuable points, and then develop some that can make It is an "invention" that makes human life better. I love art and global culture, and have traveled to more than 200 cities in more than 60 countries. I hope that the young Chinese generation in the future can use technology to build a stronger global vision, contribute to cultural interconnection, and make art Culture is more accessible."

Emily Cheung, Secretary General of ECI Awards Art-Tech Committee
Graduated from the Chinese University of Hong Kong with a double major in Marketing and Human Resource Management, Emily has built up more than 15 years of practical experience in the field of cultural technology and marketing. She has actively gathered expertise in China's cultural industry. Driven by her passion for art and culture she has also acquired a Senior Executive Management Certificate from the School of Business Administration of Hong Kong University of Science and Technology and a certificate in Art & Heritage Management from the Università Bocconi Art in Italy.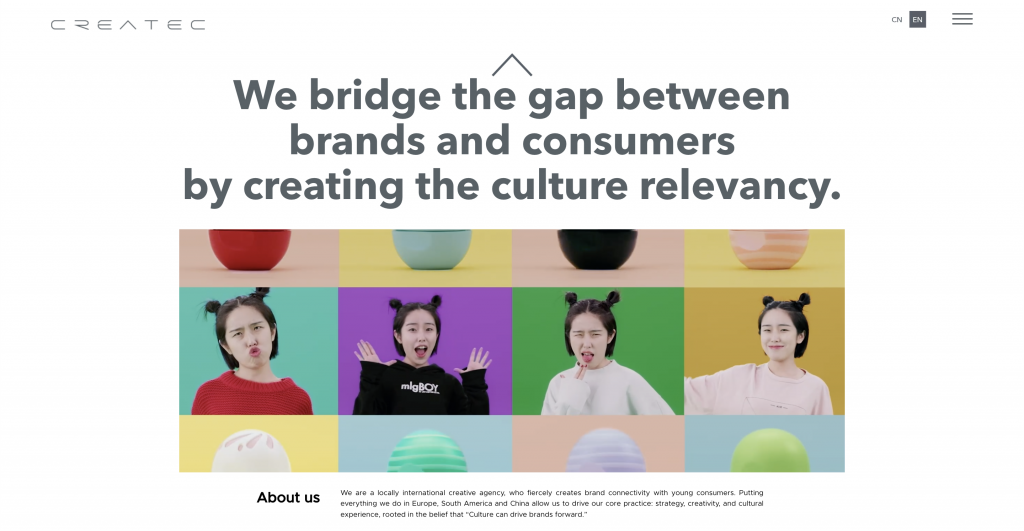 CREATEC Digital was the first company that Emily co-founded with her partner, Adam Chen. As an award-winning international creative agency, CREATEC Digital has crafted innovative branding strategies and digital transformation solutions for various Fortune 500 companies and well-known brands both in and out of China. The company's core vision is also guided by the belief that "culture drives brands forward".
Shake to Win is Emily's second venture which was selected as a finalist at the UNWTO Rural Tourism Competition in 2021. Shake to Win is a culture and tourism-focused tech platform that connects independent Chinese travelers to connect with the world's unseen cultures and local lifestyle experiences using technology. It helps distinctly local and rural businesses and locations to be seen and appreciated by Chinese audiences who can only be reached under China's version of the internet. In doing so, she aims to build a better and more connected world that can improve cross-border understanding and collaborations.
Her third and newest venture, Appreciator.io is a cultural tech company that empowers the world's art and culture industry to transform with web 3.0 technologies. The company collaborates with art institutions, IPs, artists, influencers, and brands for heritage preservation by conceptualizing and creating NFTs, digital art, immersive experiences, and limited edition collectibles, which are then curated through the lens of the new wave of collectors in contemporary culture. It connects and inspires the new generation of collectors, especially those from China, to explore, learn, trade, and appreciate culture within its own web 3.0 eco-system.
Emily's vision for Appreciator.io is to create digital collections for global cultural heritage sites and museums, to create a cultural and artistic metaverse with rich content and value through creativity and innovative technology, and cross-border brand collaborations. She hopes this will allow consumers to have a better cultural experience, and empower the youth and interests of China. Through the ECI@ArtTech Art Technology Innovation Professional Committee, Emily aims to communicate closely with experts in the global art, culture, and technology industries to discuss the business model of art, culture, brands, and consumers that generate triple-win benefits.
An active advocate for positive sustainability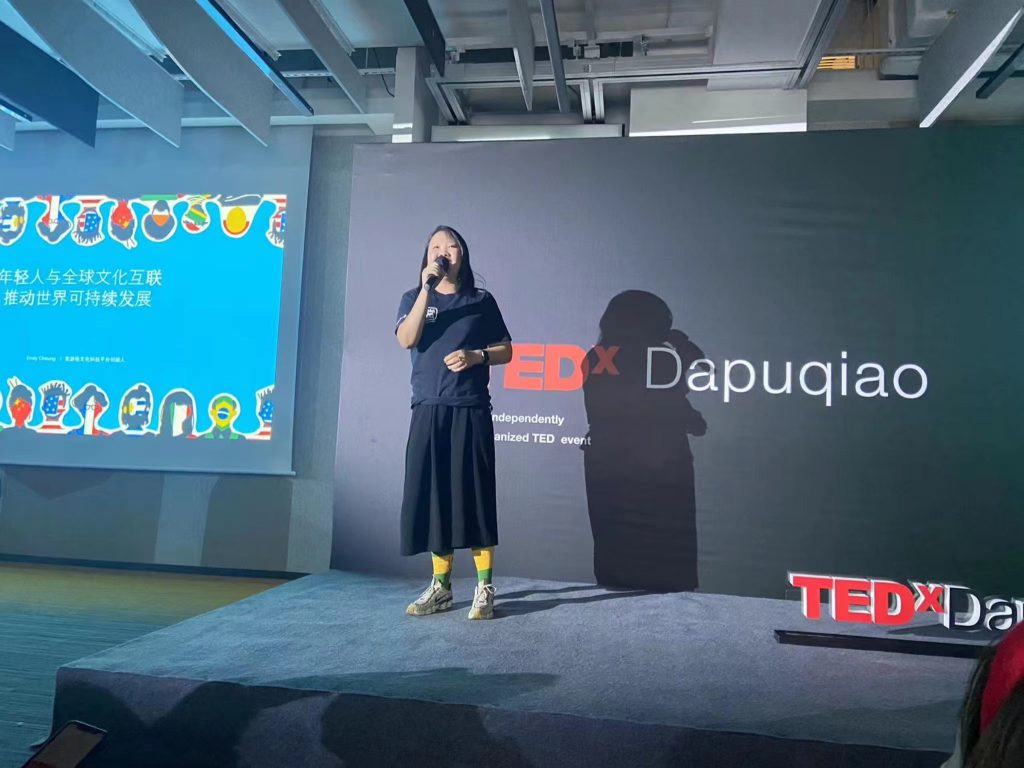 Besides her many roles as an entrepreneur, Emily has been actively participating in social committees to create a better environment for our next generation of thinkers, and young entrepreneurs. In 2021, Emily was elected as a member of the G20 YEA (Young Entrepreneurs Alliance) in China and was named as one of the Top 50 outstanding entrepreneurs from China and Europe by the UNDP INSPIRO fellowship. She is also a frequent guest speaker for significant social innovation organizations such as IMPACT HUB, Youth Sustainability Forum, and TEDx events. Her talks focus on female empowerment, women entrepreneurs, sustainable development, cross-cultural exchange, and more. In January 2022, Emily was appointed by the Shanghai-Hong Kong Chamber of Commerce as the director of the organizing committee of the annual project "SHE IMPACT", dedicated to promoting the development of women's careers and paying attention to women's physical and mental health. She also serves as a creative mentor and final judge of the China Advertising Youth Huafu Youth Award.
"Emily is one of the few young female leaders appointed by our ECI committee. Her resume has witnessed that she is not only engaged in the integration and innovation of art culture and technology marketing, but also participates in many non-profit organizations and public affairs. We at ECI need such a new model with both Passion idealists and Practical pragmatism. Generation leaders. Coupled with her global vision, it will surely bring new momentum to ECI's cross-border development and create a new era."

Dr. Owen (Lijun Jia), Founder & President of IECIA
Unlock New China for the Post-pandemic era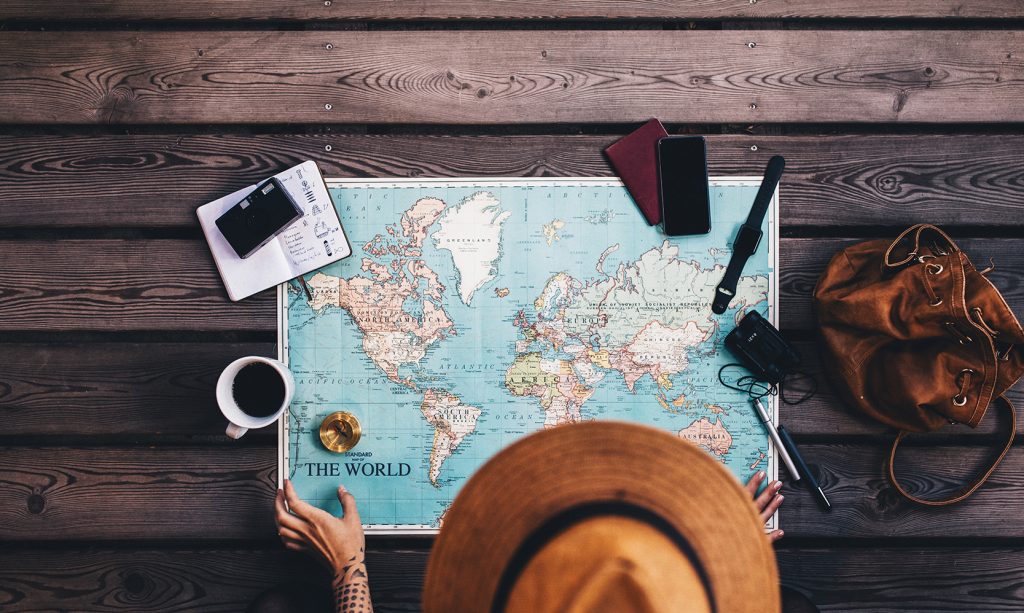 Entering the Chinese market takes time and extensive research as well as a deep understanding of consumer insights, trends, and local behaviors. Engaging in all these activities may be expensive and impossible for small to medium-sized businesses around the world. With the pandemic impact on the market, finding an efficient and cost-effective solution is vital to unlocking the potential of a newly opened Chinese market. However, finding partners that can digest both the international and local Chinese perspectives can be hard and risky.
Under the goal of connecting global cultures to the Chinese youth, Shake to Win has been facilitating China market access for SMEs, cultural organizations, as well as public institutions from all over the world, building commercial and emotional bridges between distinct nations and helping Chinese consumers to reach the most unique places, products, and people. We offer an extensive range of services including localization, social media, online marketing, offline campaigns, e-commerce, and more, leaving you to focus on your business without the need to learn Chinese from your local destination. For more information or business collaboration please contact, partnership@shaketowin.net.