Recap for the RISE 2019 takeaways from the Shake to Win Team
Last week, the Shake to Win team were selected as one of the featured startup in the RISE Alpha Program in Hong Kong.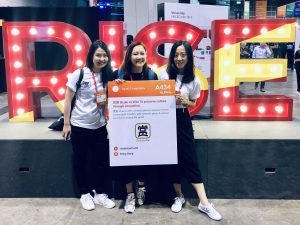 It was our first time showcasing our project with over 15,000+ attendants, over 700+ investors and networking with over 1000+ top startups from South East Asia at the RISE conference in Hong Kong from July 8 to 11.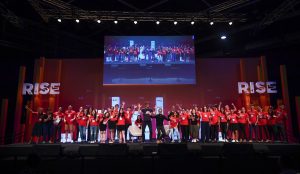 Our team has successfully distributed 150+ "red packets" (which is our creative way for introducing our company) in 10 hours non-stop, 3 female teammates including our founder Emily Cheung had shared our mission to over 10 nationalities spoken with 3 languages.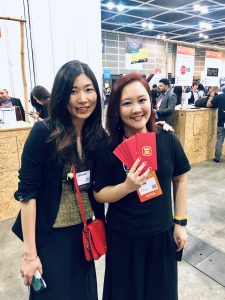 It was not an easy journey but all fruitful, thank you all for coming by and say hello and we are looking forward to open our network in South East Asia soon.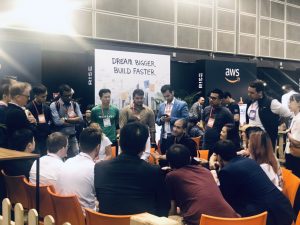 RISE is a tech conference where leading entrepreneurs, big companies, investors, startups and the media gather to meet, present, discuss and learn. Speakers from some of the world's largest companies and the most innovative startups share insights about innovation topics that concern us all.  We had a great time this year and looking forward to participate again next year!
---
Highlight 1: When AI and Robotic technology are raising, where do we see the value of humanity? 
This year in RISE, apart from exhibiting, our team had joined a few talks and learn about how can we do better for our project. One of the most interesting topic we are interested are the discussion about AI and humanity. There are so many company popping up in the market recently talking about intelligent humanoid robots, artificial intelligence, social robotic etc. By joining the session of TalkRobot, we got a briefly understanding on what's going on which is interesting, will we eventually being replaced as a species or we evolve? If we evolve, how? I guess this is a very good questions to ask ourselves, and eventually we have to think about what is our value as being a human?(That's a bit philosophical but we love to think about that that's why we build our startup 2 years ago). After listened to all the talks, I think the robot PETRA by Furhat Robotics is a good example to integrate humanity into a robotic solution and help human to evolve.  Thanks Samer Al Moubayed, CEO at Furhat Robotics sharing your vision with us. 
Apart from all the companies in this category, there is a Chinese startup with $1bn in funding – UBTech Robotics worth for you to take a look. They are trying to create a future in which robots are fully incorporated into our homes and personal spaces. It seems China are catching up with the transformation and even in a leading role, with the 1.4B population market size, I think our country are the best place to pilot any innovation project.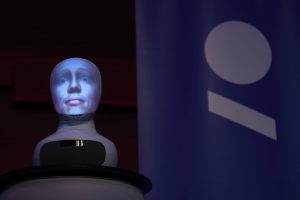 Highlight 2: Leaders with disruptive thinking will lead the changes and make the history of tomorrow, learn from Marta Plana & Josh Luber.  
Apart from technology, the conference this year also featuring different speakers from different industry. One of the session impressed us the most is "How Barcelona FC is shaping the future of sports". This session provided an unrivaled insight into the Barca Innovation Hub from Marta Plana, the board director and leader responsible for the division. Marta shared with the audience about the long term goal and purpose about the Barca, it is not only a club but an eco-system that they built for a better future for the football industry, by setting up the the financial eco-system, they are able to fund startup related to the industry and grow and pilot within the community, they did charity projects and benefit to the one who are not able to pay for an experience onsite, the video was very touching to a startup also aim to setup our own foundation (NGO) to help people in the future.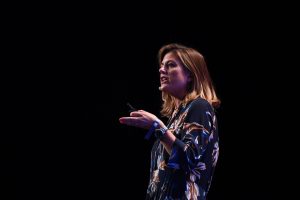 Apart from Marta, another inspiration speaker we would love to highlight is the co-founder of StockX Josh Luber, StockX is one of our founder's choice when we are looking for trendsetter opinion about fashion. Josh is such an interesting speaker of the MoneyCon session. StockX is an online marketplace for buying and selling limited edition and high demand sneakers. He shared how he created the world first stock index for sneakers and how they helped a designer to launch a new collection product successfully on their platform. It is not only about the market place, it is all about knowing your customers well by data, StockX are now able to forecast the trend and that's absolutely amazing! Found in 2015 and already a unicorn company within such short period, great team and the disruptive way of doing businesses lead them to the success. We are looking forward to their next move in Asia hopefully soon!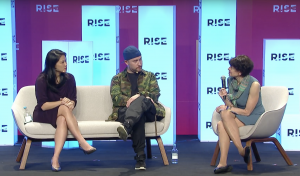 Being a leader of the industry we should always eye on a long term impact and future goals that we can create for our society. By the 20 mins talk, we are fully impressed about the two organizations' mission and vision and that's worthy for every startup to learn.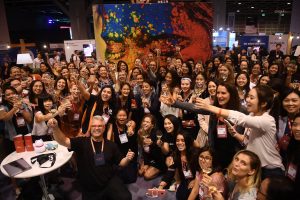 We had so much great time with the RISE team this year, and hope we can keep our international friendship and see you next year in RISE! Keep in touch with us and if you are interested to collaborate please feel free to email to comm@shaketowin.net or partnerhsip@shaketowin.net.