Chinese New Year Festivity is here! How do you leverage it to grow your business?
The year of the Rat is almost here! The Chinese New Year Celebrations are the most extended and most important holiday of the year in China, as it is Christmas for western countries.
People refer to this celebration as "Lunar New Year" or most commonly "Spring Festival," depending on which part of China you are, basically because it marks the end of winter and the beginning of warmer days. The date in which it takes place is determined by the lunisolar Chinese calendar every year and not the Gregorian calendar. Even though this 23-day event is frequently related to China, other Asian nations like Korea, Vietnam, Brunei, and Indonesia, only to mention a few of the 18 countries, that celebrate the New Year based on the Lunar Calendar which starts on January 25th and lasts until February 8th, with the Lantern Festival this year.
Although it is not clear when exactly the celebration of the New Year started, it is said that religious beliefs and sacrifices to gods and ancestors for a hearty harvest were involved. During the Zhou Dynasty (1046-256 BC), the term "Nian" appeared for the first time, which is a lion-beast that also means "new year," and some of the ways it is celebrated has to do which stories about this monster. According to Chinese folklore, Nian would rise from the sea every year to devour villagers, especially the young ones, and eat the livestock, but it is terrified of loud sounds, fire, and the color red.
For this reason, fireworks and the color red is heavily present in the celebration: red envelopes to give money to ward off spirits, red lanterns hung out the door for keeping bad luck out of the house, window's paper-cuts that carries away the good wishes.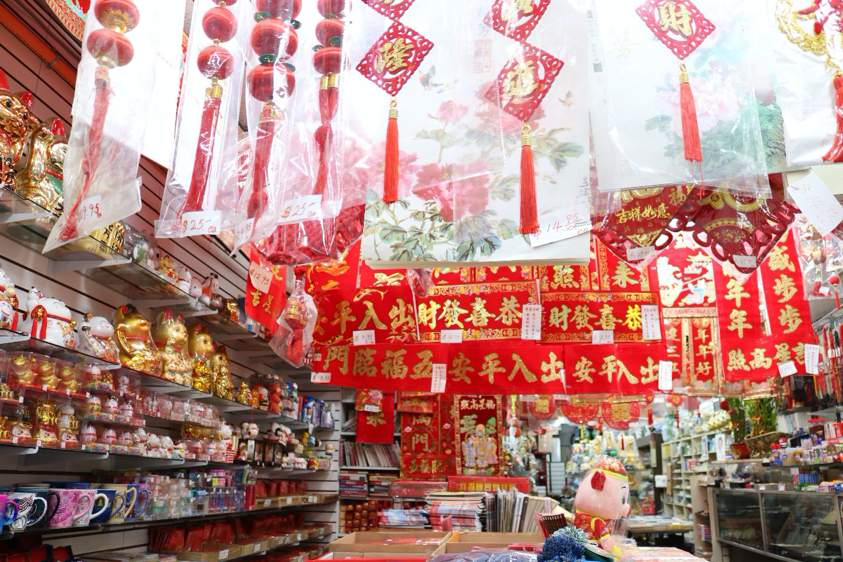 Just like in the West people travel to get together with family on December for Christmas and New Year, Chinese people who live, work or study away from their hometown try to reunite with their loved ones in more rural parts. During this time of the year, it is expected that the railroad receives 440 million passengers, 79 million will travel by plane, 45 million will move by ferry, and 2.46 billion will go by car around China. The "Chunyun," as it is called the Chinese travel season, is considered the world's largest human migration.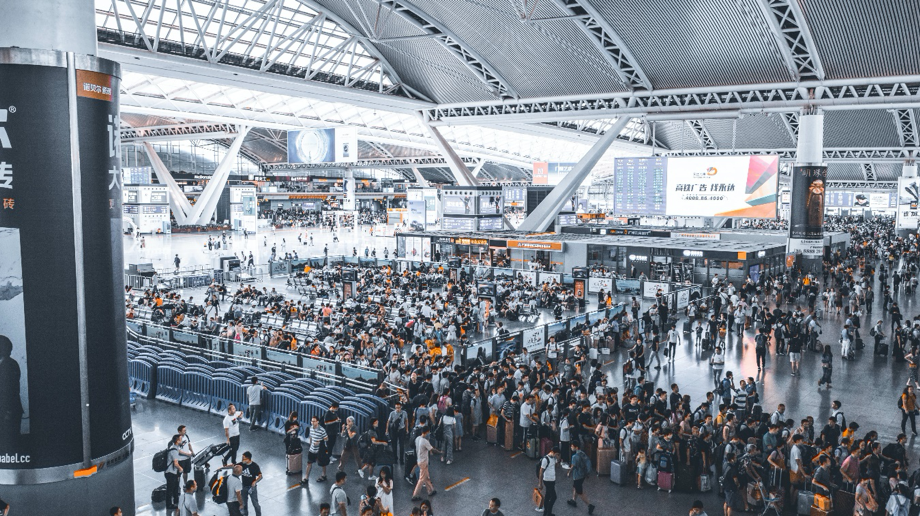 Despite how nice it is to experience New Year's in China, going to other continents like Europe is getting more popular (7 million Chinese travelers this year). Cities like Madrid, Paris, London, and Amsterdam are demanded destinations that receive millions of Chinese and worldwide visitors since this holiday is celebrated in those destinations with festival shows, fireworks, parades, and traditional food. In Madrid, for example, the Chinese Embassy prepares a cultural program that includes concerts, workshops, and even gastronomic routes for Chinese to feel at home and non-Chinese people to learn more about customs during this time of the year.
Cities like Paris and Amsterdam have Buddhist temples to pray, as it is one of the traditions, also light shows, Chinese arts, crafts, and dance. In the case of London, it holds the world's largest celebrations for the Chinese New Year outside of Asia, the host a one-day festival jammed packed with activities for everyone and amazing performances that are more exciting every year. Also, many locations around the city like Trafalgar Square, Chinatown, and Shaftsbury are filled with beautiful Chinese ornaments and offer unique events to make this festivity more special.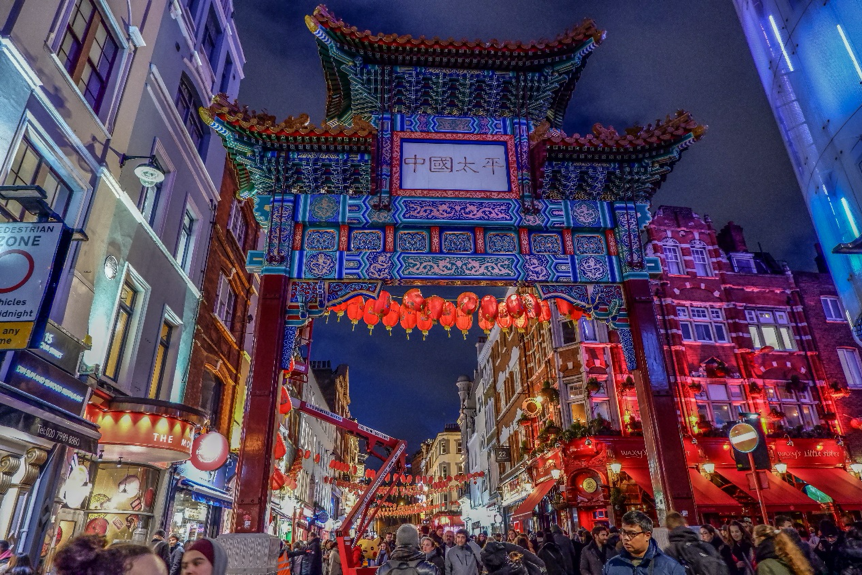 Nowadays, the Independent Chinese travelers shift from one country to the other because many places around Europe bring Chinese traditions to their streets and restaurants. The influx of Chinese tourists going to Europe, coupled with their increased spending power, presents an endless opportunity for businesses. One of the main activities in the 15-day celebration is to have dinner and enjoy food with family and friends, mostly dumpling and glutinous rice balls. Other interesting customs are to clean the house, throw away old furniture, house articles, and clothes, and get ready for shopping for the welcoming year, which is the perfect chance to skyrocket sales for medium and big enterprises related to that market.
The Shake to Win SaaS Platform offers a section with Chinese Promotional Materials, such as posters, roller-up, digital postcards, posts for your business social media channels. These can be downloaded and set up in your spot to make Independent Chinese Travelers welcome and be a lot to connect and engage better with this market.
This Chinese New Year, connect with this new traveler profile with our ACCESS Package! For only €69 one time-payment, the Shake to Win will localize your spots information in Chinese and list it ou the Shake to Win platform in only seven days! You will also get one window sticker that lets users know you are part of our network. And only for this Chinese new year, you will get ONE Set of Chinese New Year Promotional Materials (4 materials for download) for FREE, so hurry up and sign up to enjoy this special offer and access to the one of the largest outbound markets NOW.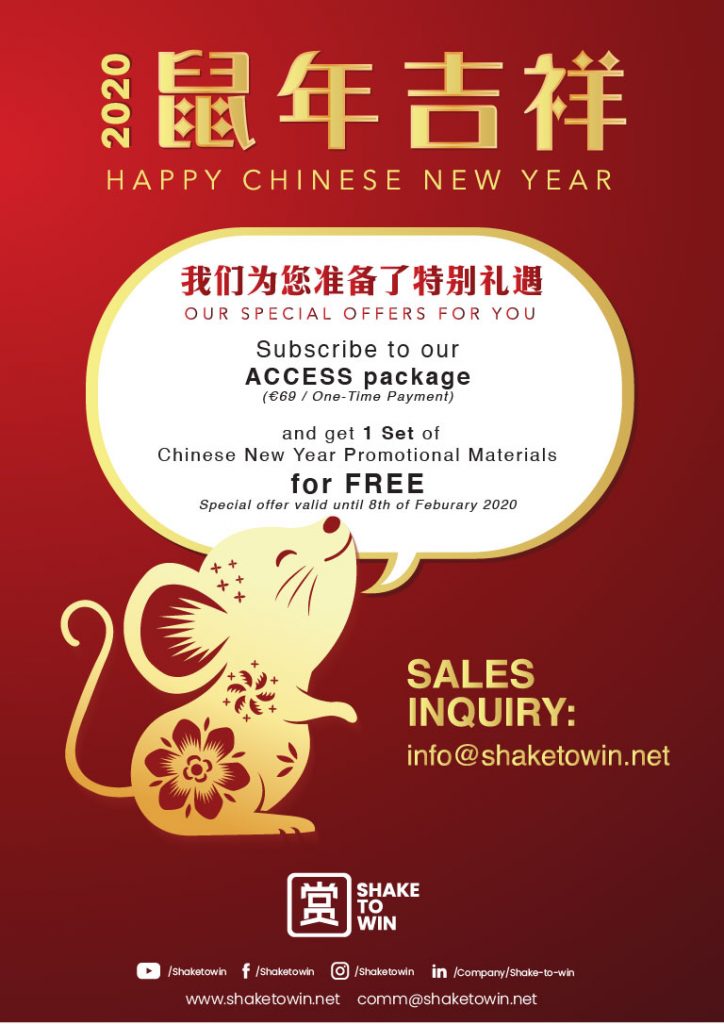 Check out which of our plans works best for you and connect with the Chinese Independent Traveler Easily, Fast, and affordable way with Shake to Win. To learn more, visit our website or contact us at comm@shaketowin.net.